Central hosts historic Mother-Son celebration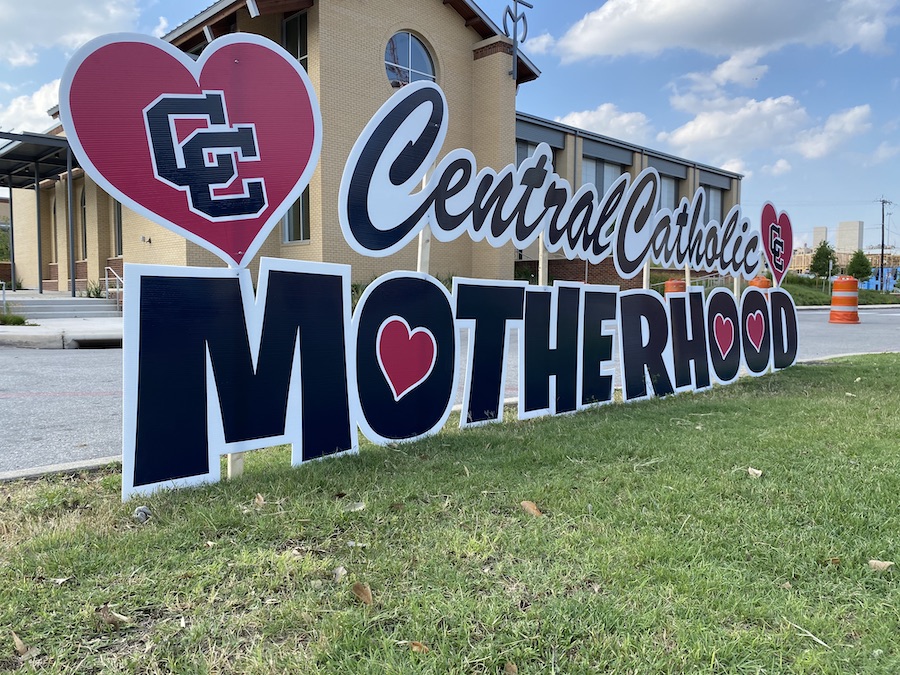 This Sunday is Mother's Day, and just like Easter and Fiesta, alternative ways of celebrating will just have be considered for our own safeties. This past Sunday, May 3, would have been the annual Mother-Son Liturgy and Luncheon that the committee puts on every year. Due to concerns over the COVID-19 pandemic, the luncheon was cancelled in advance and replaced with what the committee called, a "historic" Mother's Day celebration.
The plan and route was simple: Seniors and juniors were to arrive between 5pm and 6pm to have their photo taken from their car. Sophomores and freshmen were to arrive between 7pm and 8pm to have their picture taken. A huge display of letters that spell out "Central Catholic Motherhood," was placed on a small island between the parking lot and Bob Benson '66 Stadium where cars were asked to park. A photographer in the distance was there for each family to have the magic captured.
Cars lined up down Camden Street, waiting anxiously to be back in the presence of Central Catholic, a thing in which most students and parents, had not been apart of in over 8 weeks! Many senior vehicles were decorated with streamers, balloons, posters, and more. Some went up and down the streets honking, and their younger brothers honked back.
"Despite the current circumstances, it felt great to participate in the Mother-Son celebration! Driving toward the Central Campus, it felt great to be back at the school," Elaine Garcia, mother of Francisco Garcia '21 and Paul Garcia '23 said. "I felt appreciated. In other words, considering the circumstances we're facing, our Central Catholic Mother-Son Committee made it very special. Different…but special," Debbie Castillo, mother of Adrian Castillo '22 explained.
It was also the perfect opportunity for the school to showcase their dedication to the Class of 2020. On the side of the school, pictures of seniors were planted into the grass. Garcia said that it was her favorite part of the entire drive-by event. "It was so wonderful to see all the seniors' pictures placed at the entry and I thought it was a sweet tribute to the seniors that are graduating."
The unique event caused for many circulating thoughts during the difficult time in history we are living in. Castillo says, "It made me realize how much we miss our Central family and the motherhood bond we have with each other." Garcia says, "As I drove thru the celebration, I was thinking about how wonderful it was to be back on campus! I didn't know what each canopy "stop" had for us, so it was nice to stop at each canopy and receive a special gift for the celebration."
Each party was given custom Mother's Day cards along with prayer cards, a candle, and a heart-shaped container with chocolate embedded with the Central Catholic logo.