Dallas Cowboys 2022-2023 Season Preview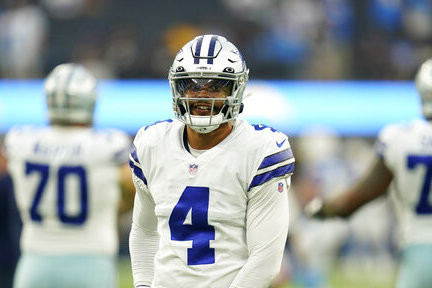 The Dallas Cowboys had high hopes of being a top team and Super Bowl contender in the 2021-2022 season. After a solid regular season with a record of 12-5 and sweeping the NFC East 6-0 there were expectations for them to make a run in the playoffs; however, their Super Bowl hopes were cut short with a loss to the underdog 49ers in the first round. While both their offense and defense had lots of talent, one element that cost them big during the season was that they had the most penalties in the league last year, averaging 7.8 per game. This was seen in the playoffs against the 49ers where they had an astonishing 14 penalties.
         This offseason for the Cowboys had them saying goodbye to a few quality pieces. A major loss was 4-time Pro Bowler receiver Amari Cooper who had 895 yards and 8 touchdowns across 15 games in 2022. They also lost two starting offensive linemen in Connor Williams and La'el Collins who both left in free agency. A few other losses include wide receiver Cedrick Wilson and defensive end Randy Gregory. They add to the team their 2022 first-round pick offensive lineman Tyler Smith, 4-time Pro Bowl linebacker Anthony Barr, and a few other minor replacements such as 40-year-old lineman Jason Peters. While the team lost more key players than they brought in, the Cowboys are hoping they can advance farther than the first round of the playoffs with 3rd year Head Coach Mike McCarthy.
       The offense was wildly impressive in 2021 as they finished 1st in yards per game and 1st in total points scoring with an average of 31.2 points per game. At quarterback, Dak Prescott is entering his 7th year with the team. While he had a good 2021 season it ended shortly and had fans wanting more from their franchise quarterback. He threw for over 4,400 yards and 37 touchdowns while only throwing 10 interceptions. At running back the Cowboys have the returning duo of Ezekiel Elliot and Tony Pollard. Elliot, who is 27 years old, is coming off a disappointing year where he only averaged 4.2 yards per carry compared to Pollard's 5.5. Many fans are left wondering if Elliot can ever get back to his prior self as he was a three-time Pro Bowler and two-time All-Pro selection, and led the league in rushing yards in 2016 and 2018. One thing on the offensive end that hurts the team is the injury of starting left tackle Tyron Smith. He has been a top tackle for over a decade for the Cowboys and with him suffering a hamstring injury he is expected to be out for most of the regular season. It will be interesting to see how the Cowboys fare without him on the line as they already lost two starters.  At wide receiver, the loss of Amari Cooper is a loss but you have third-year receiver Ceedee Lamb who exceeded 1000 yards receiving in 2021. You also have Michael Gallup who is a good receiver but he is coming off an ACL tear and may miss time. The offense as a whole may only be a shell of what it used to be but if Dak Prescott can play at an elite level this offense should be near the top of the league once again.
  The team on the defensive end definitely took steps forward in the 2021 season and their much-improved defense was a strong point for them. New defensive coordinator, Dan Quinn, had the defense producing big in his first year, as they ranked first in turnovers generated with 34. Another big part of the defense and bright spot of the team was second-year cornerback and first-team all-pro Trevon Diggs who recorded a franchise record and league-leading 11 interceptions. Also rookie and first-team All-Pro linebacker Micah Parsons had a massive impact winning defensive rookie of the year and finishing second in defensive player of the year. 
Overall the Dallas Cowboys look to build upon their 12-5 record and make it far this year in the postseason.