Fantasy Football Season Is Underway at Central Catholic
Previewing the 2022-23 fantasy football season at Central Catholic
With the NFL season starting on September 8th, Fantasy Football players all over the country are anticipating their draft positions and analyzing who the best pick will be. The consensus for most managers at this moment is that Jonathan Taylor should be the undisputed number one pick in most fantasy drafts. Fourth period Journalism created a league and drafted their players. Here's how it went.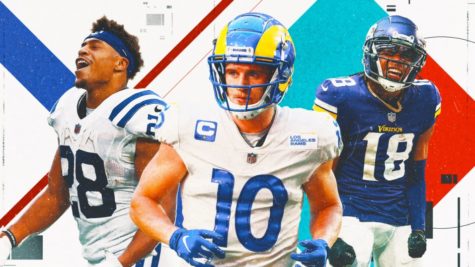 We'll look at each individual team and where they are projected to finish in the league, with some additional comments from me, Alex Montes.
Team Tate (Projected to finish 1st by ESPN Fantasy)
QB-Josh Allen

RB1-Christian McCaffrey

RB2-Leonard Fournette

WR1-Justin Jefferson

WR2-Michael Pittman Jr

TE-Dalton Schultz

FLEX-D'Andre Swift

D/ST-49ers

K-Tyler Bass
Although this team does have high upside, it is heavily reliant on the health of Christian McCaffrey. This team also has a strong WR1 in Justin Jefferson, with an even stronger QB in Josh Allen. This is a solid team that has the potential to finish in the top 2, easily.
Team Garza (projected to finish 2nd by ESPN Fantasy)
QB-Lamar Jackson
RB1-Jonathan Taylor
RB2-Dalvin Cook
WR1-Deebo Samuel
WR2-Keenan Allen
TE-Kyle Pitts
FLEX-James Conner 
D/ST-Ravens
K-Justin Tucker
This is a strong team that features many of the superstars of today's league. This team has a high upside, but also has some questions such as the FLEX position. This team's floor is somewhere in the top 3.
Team BDD (Projected to finish 3rd by ESPN Fantasy)
QB-Justin Herbert
RB1-Austin Ekeler
RB2-Joe Mixon
WR1-Ja'marr Chase
WR2-Davante Adams
TE-George Kittle
FLEX- Amon-Ra St. Brown
D/ST-Cowboys
K-Daniel Carlson
This team has a strong core of Herbert, Ekeler, and Chase. Although I don't personally rate Ekeler as much as other managers do, I still think he'll be a top 10 fantasy RB. This team, in my opinion, will finish in the 3–4 range.
Team Montes (Projected to finish 4th by ESPN Fantasy)
QB-Patrick Mahomes
RB1-Derrick Henry
RB2-Najee Harris
WR1-Tyreek Hill
WR2-CeeDee Lamb
TE-Darren Waller
FLEX-AJ-Brown
D/ST-Packers
K-Younghoe Koo
This team has extremely high upside if everyone hits. Derrick Henry, Najee Harris, CeeDee Lamb, and Tyreek Hill all have the potential to hit 30 fpts in any given week. I would say the floor for this team is top 3 and the absolute peak is top 2.
Team Mitchell (projected to finish 5th by ESPN Fantasy)
QB-Kyler Murray
RB1-Alvin Kamara
RB2-Josh Jacobs
WR1-Stefon Diggs
WR2-DJ Moore
TE-Travis Kelce
FLEX-Marquise Brown
D/ST-Bills
K-Evan McPherson
This team has a very low ceiling with not many X factors that could change a matchup. What you see is what you get with Team Mitchell, and the projections reflect that. I would project Team Mitchell to finish in the bottom 2 of the league.
Team Wilson (projected to finish 6th by ESPN Fantasy)
QB-Russel Wilson
RB1-Javonte Williams
RB2-Antonio Gibson
WR1-Cooper Kupp
WR2-Mike Evans
TE-Mark Andrews
FLEX-Jerry Jeudy
D/ST-Saints
K-Brandon McManus
This team is, as you can see, terrible. This team has little upside on the projections, which for the most part are correct. There is nothing else to add besides the fact that I think that this team will undoubtedly finish last.
With all that being said, here are my final standings and predictions for the rest of the season.
Team Garza
Team Montes
Team BDD
Team Tate
Team Mitchell
Team Wilson