Intramural dodge-ball tourney rocks historic gym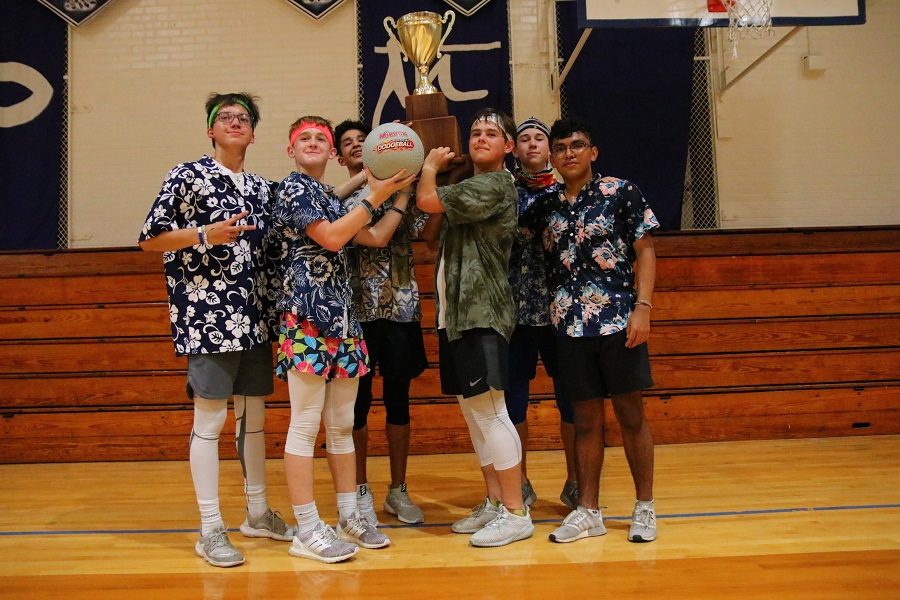 Ready. Set. Dodgeball! On Thursday, September 12, the first intramural of the school year shook up Central Catholic's historic gym. You could feel the energy in the building as Student Council led its annual dodgeball tournament. 16 teams from various grade levels participated in the after school tournament in quest of year long bragging rights. Each team consisted of 6 students fully prepared to sling dodgeballs with all their strength at opposing players. This years dodgeball tournament was definitely one for the books.
Student Council's Intramural Committee led by executive members Mitchell Porter and Jacob Ybarra wanted to start off this school year with a fast pace intramural. They believed dodgeball would be a perfect competition that would gather in a solid amount of student participation. When talking to student council member Jacob Ybarra about the tournament he told me, "With the school year starting to become more stressful, playing dodgeball afterschool with and against your best friends is a great way to get your mind off things." Jacob was definitely right, the intensity of the tournament brought out many smiles, as well as a few unlucky bruises. Anyone could have probably guessed that dodgeballs flying through the air would make a great stress reliever for the boys of Central. 
With the tournament being double elimination, teams were given ample opportunities to showcase their dodgeball skills. With students playing their hardest, some games were decided by the calls of the student council referees. Senior Ozzy Alvarado was not pleased with the officiating, stating, "If the refs didn't miss such obvious calls, my team definitely would have made it to the finals." Even though Ozzy's team did not make it to the finals, the championship match certainly did not disappoint. On one end was star studded senior team led by the dynamic duo of baseball players Jon Kutsch and Connor Emmons. On the opposing end was a dark horse junior team, led by dodgeball master Jett Malone and his supporting cast. After a hard fought final match, junior team 'SA Buddies That Care" led by Jett Malone secured a dub, in the name of the class of 2021. With the success of this tournament, many students are hoping for another dodgeball intramural at the end of the school year. If STUCO decides to answer the student body with a second dodgeball intramural, we should be in store for another heart racing event.