CC XC is running into start of a great season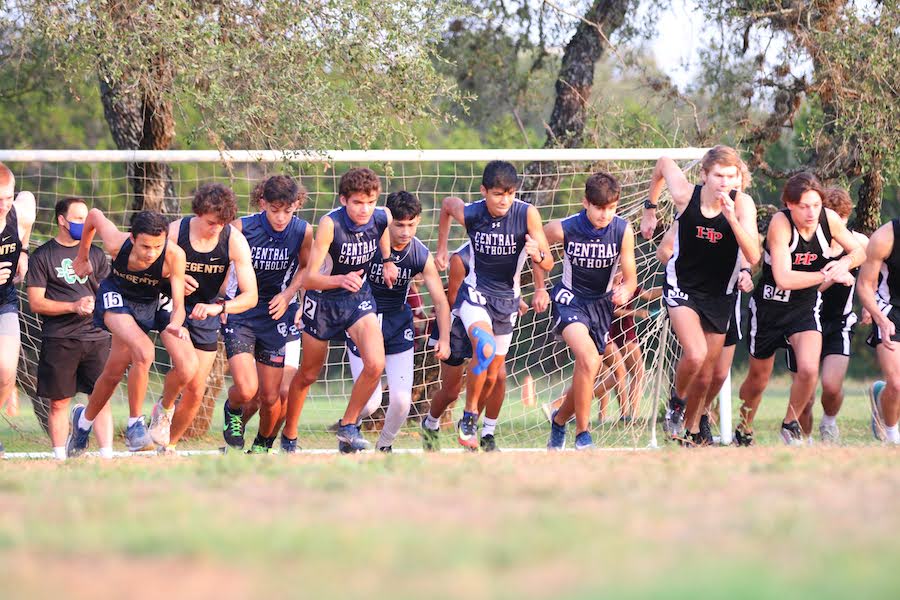 The Varsity Boys won the SACS Cross Country Classic Invitational meet on Saturday, September 19, by outpacing a handful of area schools to place 1st in a meet held at San Antonio Christian School. This year has started off on a very good note with the Varsity boys placing 2nd at the Medina Valley Cross country invitational last week.
Four of the team members placed among the top ten out of approximately 80 runners in the meet. Placing 1st overall in the meet was sophomore Nathan Morales. Placing 3rd was Nathaniel Trevino. 7th and 9th places went to Noah Fernandez and Andrew Rivas, respectively. Also placing in the meet were team members Isaiah Fetter, Isaias Martinez, and Christian 'CK' Knight.
There are 25 boys on the team this year, made up of nine freshmen, seven sophomores, seven juniors, and two seniors. Coach Brimmer stated: "The team this year is lead up front by sophomore Nathan Morales, who is looking to improve on his fifth place finish at the state meet last year. Also returning from last years state team are junior Nathaniel Trevino, who has improved tremendously over the summer, and sophomores Christian Knight and Isaias Martinez."
Our group of freshmen also have several talented young men, and three who stand out have made an immediate contribution to the varsity squad are Noah Fernandez, Drew Rivas, and Isaiah Fetter. Also returning from last years are seniors Diego Mendez and Chris Galvan. Coach Brimmer had this to add about his seniors: "These two young men not only bring great athleticism to our team, but a ton of leadership and experience of three years representing Central Catholic in the sport."
The JV team competed well in the SACS meet also, coming in 2nd overall.