Angels lend helping hands at Haven for Hope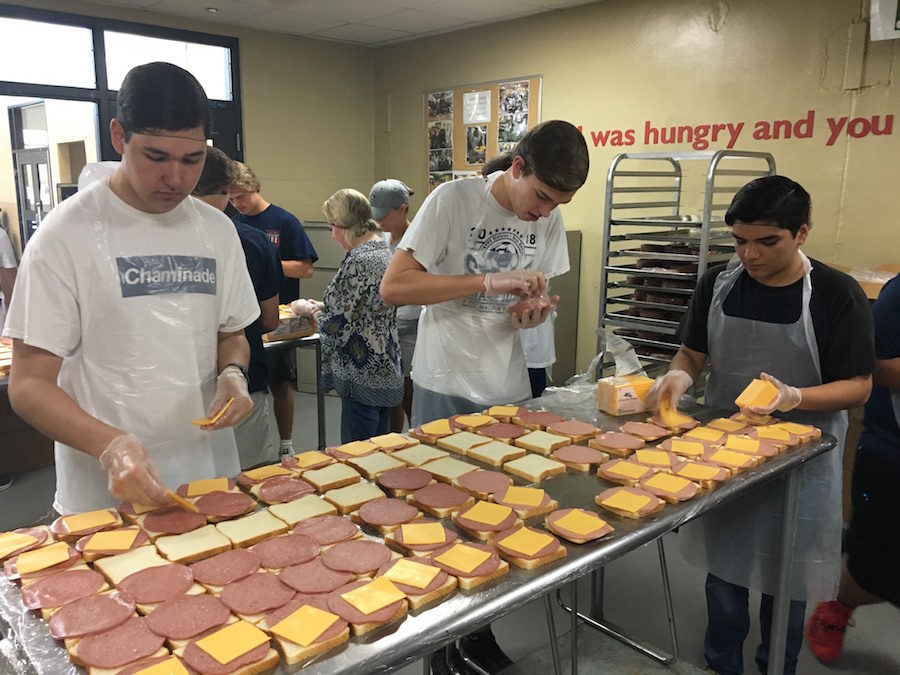 Ernesto Gomez, Staff Writer
September 30, 2019
From the fields to the kitchen, the Guardian Angels have continued to go out of their way to serve their community. Rather than spending the day watching Sunday night football, the group had volunteered at Haven for Hope,  a campus offering resources for those struck by homelessness.
"I always enjoy service because I know that there's a world out there that needs each of us to do our part to make it a better place. But, volunteering at Haven for Hope is special because you get to interact directly with those individuals in need," said Guardian Angel moderator, Mr.Bendele.
Although the beginning of their service started with being lost in a labyrinth of streets and paths, the young men soon found their way into the Food Bank kitchen. To get them started, they were given the task to make sandwiches. Although a seemingly simple task, the young men became weary after their the first few hundred sandwiches. As the sandwich process dominated the volunteer room, students were pulled aside to mix and package salad.
"It was a great experience helping feed the hungry and it taught me the values of being a Christian," said senior Matthew De Los Santos.
After all the sandwiches and salads were packaged, it was dinner time. The chef behind the meals at the Food Bank kitchen had prepared a pasta meal for the residents. After students where taught how to serve meals, the doors opened and their direct service began. As residents went down the line, students scanned their badge, handed them a drink, gave them their meal, and wished them the best. After two hours of service, the students had served 429 people. Although all were fed, the job was far from over. Students grabbed buckets, brooms, mops, rags and began to clean the cafeteria and kitchen. Once spotless, their service came to an exhausted, but very fulfilling end.
"The Guardian Angels are a great example of how Central Catholic contributes to the communities around them. The Guardian Angels have done many things for the local communities including feeding the homeless. This action shows how much the brotherhood cares to ensure that no one gets left behind", said sophomore Nathan Lara.