Bordelon Rifles Compete in 2016 JROTC Championships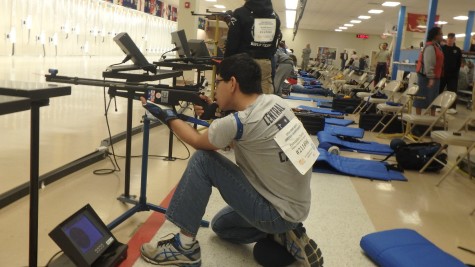 On February 16, the Bordelon Rifle Team packed up their rifles and equipment and set out for the 2016 JROTC Service Championships hosted in Anniston, Alabama.  Both sporter and precision categories consisted of members who have not shot at the range in Alabama.  With previous complications due to academics, the sporter team was limited to two athletes, Huy Nguyen and Florentino Torres.  Sporter Team Captain Huy Nguyen competed in Alabama in the 2015 JROTC Service Championships, while Florentino Torres, another athlete of the team, was experie
ncing his first national competition.  Members of the precision team, Paul Escamilla, Ian Walaski, Andres Ruiz, and Patrick Rodriguez were also experiencing their first national competition. The Championship consisted of three days of marksmanship: One day for practice, another for the first stage, and another for the second stage.  During the first and second stage, athletes can compete as a team and as an individual.  If the team does not qualify to move on to Ohio, but the individual does, then the individual would be sent to Ohio.  Teams within this competition consisted of four athletes, and the Bordelon Rifle Precision Team met the requirements to compete as a team.  However, complications affected the sporter team, and they did not meet the requirements to compete as a team, but they competed as individuals.

The team came by the range for practice on the first day and everyone was feeling strong andconfident.  "I shot 5 shots in the prone and none in both the standing and kneeling position." Said Florentino Torres.  Huy Nguyen stated: "I felt really confident because my shot group is on point and everything felt natural and comfortable."  Both teams went through an hour of practice before doing a review on how everyone felt about the range, the competition, and their practice.  Florentino jokingly stated: "This range is so much cleaner than ours First Sergeant."  and everyone had a good laugh.  
The first day of competition came around and we seemed to be prepared to compete.  We went through our stages and tried our best.  Midway through the prone stage however, Florentino's rifle was malfunctioning and had to be replaced with the spare rifle.  "I really wasn't too worried about it, I was just trying to keep my cool." Florentino said.  With no other complications, Huy and Florentino kept going through all three stages and finished day one of competition.  Huy stated: "I was frustrated very much with my standing because I had a very good shot group on my sighters, but when I went to my record, my shots were all over the place."  Huy shot an overall score of 511 with 13 bulls, while Florentino shot a 392 with 4 bulls.  The precision team was varying in responses, but everyone had a common problem: frustration.  Paul shot a 559 with 17 bulls, Andres shot a 557 with 27 bulls, Ian shot 549 with 19 bulls and Patrick shot 527 with 12 bulls.  
"It is not that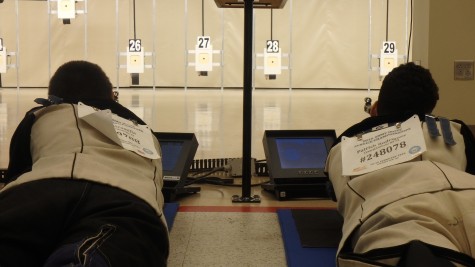 I don't care, I do care, but you do this because you want to." First Sergeant Carrion said.  With that in mind, we moved on to the second day of shooting with a better attitude.  Huy stated: I was definitely more relaxed and calm the second day than I was on the first day."  "I was frustrated this day because I wanted to prove that I could do a lot better than before." Florentino said.  Huy ended up shooting a 536 with 13 bulls and ended up with an aggregate score of 1047 with 26 bulls.  Florentino ended up shooting a 491 and 6 bulls the second day for an aggregate score of 883 with 10 bulls.  The precision team had better results due to their change in mentality from the first day.  Paul shot a 571 with 29 bulls with a total score of 1130 and 47 bulls, Andres shot a 557 with 19 bulls for a total score of 1114 and 46 bulls, Ian shot 547 with 19 bulls for a total score of 1096 and 38 bulls, and Patrick shot 548 with 14 bulls for an aggregate score of 1075 and 26 bulls.  Since the precision team shot as a team, they came in 15th place with a combined score of 4415 and 157 bulls.  In addition to the team doing better than they have on day 1, Huy received his Excellence in Competition badge for receiving points in other matches that accumulated over the course of his marksmanship career.  Although the team as a whole did better the second day, none of them qualified to compete at Camp Perry, Ohio.  "This was all a learning experience for them.  I'm not going to be here next year, but everyone else will pick up the slack and we'll be ready to beat them all next year." Huy confidently said.