Schrader cultivates the thinkers of tomorrow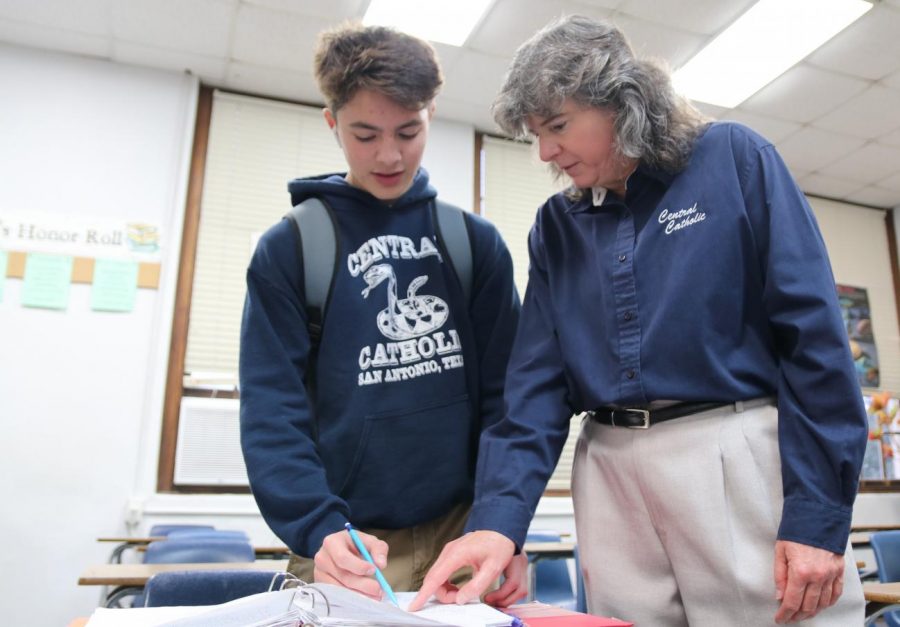 Ernesto Gomez, Editor
December 20, 2019
"
Find your passion and follow it. The Lord has a plan/purpose for everyone. We need to find out what that is and to do it wholeheartedly, then joy and happiness will enter in. Yes, there will be ups and downs, there always is."
— Ms. Schrader
Today it appears that most people manage to overlook those who truly make a difference. When everyone is occupied by sports, social media, and video games, we tend to forget about those who leave life longing impacts on us. Our educators who prepare us for the roller coaster of life we are to expect after high school receive inadequate appreciation for their work. An especially hard-working teacher I would like to give their much-deserved spotlight is Algebra teacher, Ms. Schrader.
Schrader, Moderator of the National Honor Society and Math department chair, has been teaching at Central Catholic for about 30 years and has impacted hundreds of young men in her teaching career. During those years, the amount of effort and dedication in her education has not seen change. She has continued to educate students in a way that they truly understand.
"Schrader is one of my favorite teachers at Central Catholic, she is such a wonderful educator and she is always making sure her students are comprehending her material. She is always offering her tutoring before and after school, and she is always very kind and patient when helping her students learn the material," said sophomore Blake Zertuche.
Where could such an amazing teacher come from you may ask?  "My grandfather delivered mail here in the late 30s early 40s.  He was greatly impressed with the school.  When my Dad was old enough for high school, he came to Central after a brief time at the seminary.  He loved the school," said Schrader. Her direct involvement with Central Catholic began when she was young, "When I was in high school, I joined a singing group here at CCHS called "His Brother's Children"  Brother Richard Martens (who passed away last spring) was the director."  During her years in the choir, "I went with the group to Romania, Bulgaria, and Greece.  It was amazing!  Brother Cornell, Burkholder, and others were chaperones.  After high school, I got to know the brothers even more.  While at St. Mary's, I went backpacking with each Fall and Spring semester at Big Bend National Park." With such a deep history with the school, it's obvious how she had found her place here at Central Catholic.
"One day, our assignment was a worksheet to figure out Christmas songs based on just an image.  There was one picture none of us could figure out. It was the song "I Saw Three Ships Coming Sailing in on Christmas Day."  I remember her smiling and being so excited when she told us the answer. In typical fashion, we had no idea what song she was talking about.  That moment summarizes Ms. Schrader – always smiling and always willing to help and listen to her students," said former student and current teacher, Dr. Ballesteros.
"When I had the chance I went to student teach at Central Catholic.  I LOVED it.  When my student teaching experience was over, I applied for the job.  Brother Rudy hired me and I have been here ever since," wrote Schrader about her experience of starting to work at Central Catholic.  With an education from Mount Sacred Heart, Incarnate Word High School, St. Mary's University, and Trinity University, Schrader has brought a lot to the table. In the past, Schrader has been involved in school choir, campus ministry and has been the junior class moderator and part of the Marianist Integration Team.
Of course, Schrader does have a life outside of Central Catholic. "I love the outdoors and I enjoy photography. The two go hand in hand – taking pictures of the outdoors."  Schrader is also very involved at her community parish, attending mass, and assisting in confirmation classes. For some of her photos see below.
According to Dr. Ballesteros, "She knows how to make her students feel empowered and determination to be the best young man and student they can be. "