#Noahstrong: "Intrepid" March update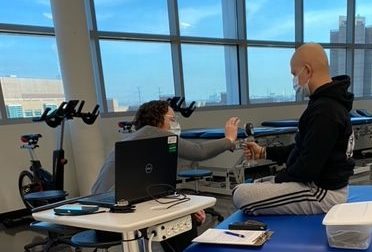 It was announced a few weeks ago by updates through Debi Harper's Facebook and the GoFundMe pages that Noah Adams has been accepted into the Center for the Intrepid at Brooke Army Med Center for rehabilitation.
What is it?- Located at the Brooke Army Medical Center here in town, their mission on their official website reads, "The threefold mission of the CFI is to provide rehabilitation for OIF/OEF casualties who have sustained amputation, burns, or functional limb loss, to provide education to DoD and Department of Veteran's Affairs professionals on cutting edge rehabilitation modalities, and to promote research in the fields of Orthopaedics, prosthetics and physical/occupational rehabilitation. The staff and equipment for the building was selected to provide the full spectrum of amputee rehabilitation as well as the advanced outpatient rehabilitation for burn victims and limb salvage patients with residual functional loss."
This is a top-notch treatment center that only Veterans or wounded soldiers can really get into for treatment. But thanks to some ties from the school, Noah was able to get in. The Pep reached out to CPT Dwayne Rhodes, who was apart of that process in getting Noah in.
He shares, "In October 2020, the Army Instructors were looking for ways to help Noah and his family. I thought" It would be nice if we could get Noah in the Center for the Intrepid" the Army Instructor agreed. I was a company commander from 2013-2015, stationed at Fort Sam Houston and during that time I would bring my soldiers to the Center for tours. I thought the staff would remember me so I took several trips to the facility to see what we needed to do to make this happen. After getting turned down on two occasions, I finally talked to someone who talked to someone else and was told the only way to get Noah in was getting approval at the Secretary of the Army level. Our hopes was dwindling away."
He continues, "I talked to Mr. Paul Garro, President at CCHS and he wanted us to remain optimistic. A few weeks later, a gentlemen by the name of Mr. Joseph Bray called Mr. Garro wanting to know if there was anything he could do to help Central Catholic in his new Job. His new job is the Civilian aid to the Secretary of the Army. With the help of Mr. Joseph Bray the ball starting to move quickly."
He then continues to say, "On February 22nd, with the help from our School President Mr. Paul Garro, the Army Instructors were able to secure enrollment for one of our own, Cadet CPT Noah Adams, into the Center for the Intrepid located on Fort Sam Houston. This state-of-the-art facility is generally offered only to military service men and women that have suffered amputations and severe burns in the line of duty. This was a vigorous process that took several months to achieve (Starting in early Nov, 2020). The ultimate decision came from the Secretary of the Army Honorable John E. Whitley (Acting). He agreed what a great gift it would be for such a great cadet. The Director at the CFI Dr. Jeff Tiede also deserves credit for the enrollment. He was our point of contact at the center and definitely pushed the issue to get this enrollment done. Today, Noah has already had three appointments at the Center and he is thrilled that he is rehabilitating with Navy Seals, Army Rangers, and other Combat Veterans."
Noah recently received another round of chemotherapy, that went on to Wednesday of this past week. Right before, The Pep was able to interview him and his mother, Debi Harper.
Adams describes his experience at the Center for the Intrepid as "awesome." He says, "I have talked to other people that have gotten rotationplasty and they didn't get physical therapy, so you know, having the best in the world is really awesome."
He continues, "They're really good people. Having a bunch of soldiers there is really inspiring as well."
As for interaction with the doctors there, he says, "So far I have only had two visits, but they have been very helpful. They're always making sure I'm not in pain, they help me do all that's necessary to get me not just back to walking, but to running, and getting me back to my daily life."
As for progress in treatment, Adams explains that he is exercising and doing workouts to help with his leg. He says, "It's nice to have something to do finally."
Harper then explains the experience alongside her son at the treatment facility. She says, "It's been pretty awesome." She continues, "Just seeing him walk the other day, of course there were allergies in the air because I was tearing up, but, it was awesome. And the people there are so inspirational and compassionate and they want you to succeed and it's really really awesome."
Everyone at the Center for the Intrepid is of some rank in the U.S. Military. Some from every branch, including the Reserves. Adams and Harper explain in more detail, that the only civilians really there are the doctors that treat patients. But Harper explains how they all pretty much understand of Noah's story, and they want him to succeed. Harper describes it as they are "treating him like a soldier."
Harper was asked to describe the experience of him being surrounded by all the personnel there, and she says, "I'm a veteran, and so is his dad. This camaraderie and the Brotherhood/Sisterhood that the military has, falls so in line with the Brotherhood that Central has. It just makes sense that they're working together."
Over the next few weeks, Adams explains that his next steps are getting his prosthetic leg and getting used to walking on that. Other than that, Adams says he is feeling fine and is excited to take on the next step in his journey to recovery.