Orienteering earns 10 medals at Cooper Lake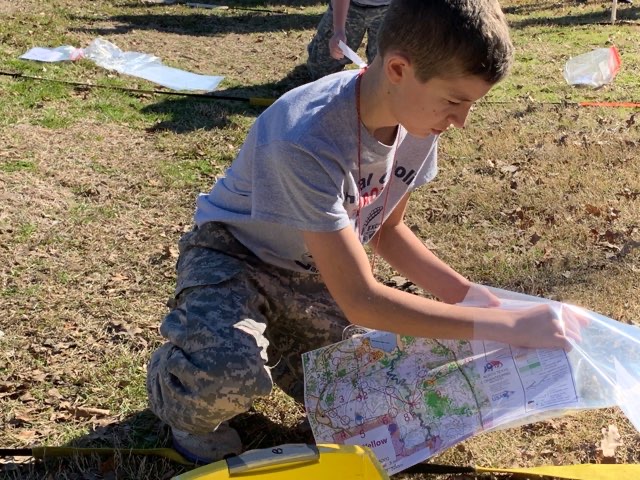 Central Catholic's JROTC Orienteering Team, aka Ranger Platoon, traveled to Sulphur Springs on the 8th and 9th of February to compete in the annual Cooper Lake Orienteering Competition, a sponsored event that hosts orienteering enthusiasts of all ages from all over the country.
This year, Ranger Platoon competed against over 200 participants, including students from 7 other high schools, adults from various Orienteering Clubs, Scouts, and the general public. It was a 2 day event that held events in 5 categories that included male and female age groups, and distances that spanned 3 to 5K in length.
Ranger Platoon cadets won an impressive 10 medals from all categories they participated in: Green Male (GM-18) – 1st & 2nd. Brown Male (BM-18) – 1st. Orange Male (OM-18) – 1st & 2nd. Yellow Male (YM-15) – 1st, 2nd & 3rd. Yellow Male (YM16-18) – 2nd & 3rd.
Congratulations to our medalists: Nathan Staver, Daniel Benitez, Noah Adams, Luke Meeks, Nathan Martin, Joseph Polonis, Juan-Pablo Fabregat, Kyle Arndt, Ethan Galdau, and Leonardo Salazar Garcia.
Moderated by SFC (RET) Edward Bradford, the Orienteering Team consists 39 cadets from the Corps of Cadets at Central Catholic HS. The team brought 15 of the 39 cadet to the competition:
Commander Cadet Nathan Staver, Executive Officer Cadet Daniel Garza, Noah Adams, Aaron Loeffler, Daniel Benitez, Leonardo Garcia, Fernando Garcia, Ben Aguillon, Luke Meeks, William Moore, Joseph Polonius, Juan-Pablo Fabregat, Kyle Arndt, Alejandro Flores, and Ethan Galdau.