Multiple talents shape Central Senior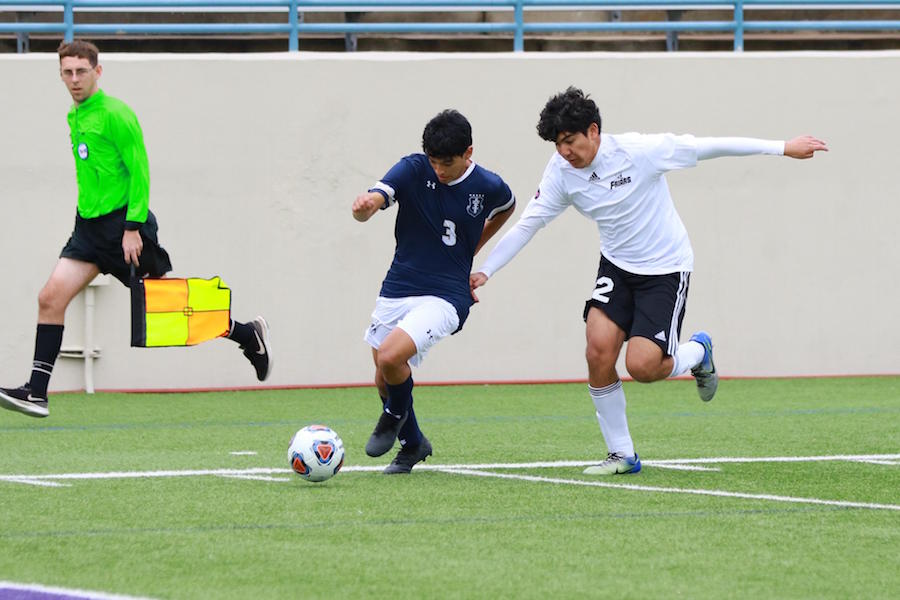 Tomorrow night, defending TAPPS state champion Central Catholic lines up against number #10 ranked team in the nation Episcopal for what is for sure going to be an electrifying soccer match. Tonight, senior defender Miguel Pena prepares for this match jamming out to his pregame tunes which include Nirvana, David Bowie, The Beatles, and Billie Eilish. While Miguel Pena may seem like your average soccer player, his unique personality along with his natural talent make him one of our school's most interesting students. 
Miguel began to realize his God given athletic ability early on his life. Starting kindergarten at St. Luke's Catholic school, Miguel excelled in probably every youth sport you could imagine. He lit up the basketball court, left everyone in the dust in track and cross country, made amazing plays on the baseball and football field, and most importantly, outshined opponents on the soccer field. After participating in both the AIAL city championship for basketball and soccer his eighth grade year, Miguel knew those were the two sports he'd look to standout in during his upcoming high school journey at Central Catholic High School. 
After doing exactly what he had set out to do as an eighth grader, Miguel had earned varsity spots in both basketball and soccer by his junior year. While pondering what sport would bring him the most satisfaction, Miguel designed a laughable plan. He decided he would petition Coach Mac of the basketball team and Coach Cartee of the soccer team in letting him play both varsity sports. While dual sports athletes are not rare, they are when both of the sports seasons coincide at the same time. What made this situation even more bizarre was that Miguel would be playing big minutes for both the basketball and the soccer team. Looking back on this plan, Miguel stated, "It was pretty difficult but it wasn't unbearable. Some nights I would play 20 minutes for the basketball team, get a good nights sleep and be on the soccer pitch the next day playing around 40 minutes. Managing my time wisely definitely was key during that period of time." By the time he finished junior year Miguel has already lettered in track, cross country, basketball, and of course, soccer. After capturing a state title with our button soccer team, Miguel knew he had to prioritize soccer and make it is single sport his senior year. He told me, "It was tough dropping basketball, but after realizing I have a pretty good shot at getting back to back state rings, soccer has to be the only thing on my mind. And I've always wanted to be a part of our basketball Section R." 
While Miguel's athletic ability may stand out to most people, the Central Catholic senior class knows that is not what makes him so special. Miguel's selfness nature, along with  his willingness to befriend anyone is what makes him such a vital part or our senior class. Teammate Alejandro Chavarria complimented Miguel saying, "That kid has to be the nicest guy I know. Whether in the classroom or on the pitch he's just always making the right choices." Although soft spoken, Miguel also knows how to keep a conversation interesting. Senior Devin Guerrero had to say, "When I first met him I could never imagine he'd be so funny, it seems like every time I talk to him I end up laughing" when discussing Miguel. While it can sometimes masked by his quiet nature, Miguel's class wide respect was earned through his acts of integrity, and witty jokes.
Along with playing soccer, Miguel also partakes in other interesting hobbies. He spends his little free time listening to vinyl records, watching the Fresh Prince of Bel Air, and playing basketball with friends. His favorite hobby however,  is shredding up his guitar. Miguel gave an unsurprisingly humble answer when asked about his guitar skills saying, "I'm not the best player right now even though I enjoy playing very much. Give me about a month or two after soccer season ends and I'm going to look like Jimi Hendrix on the strings." He hopes to one day share his creativity with the world, planning to either study photography or graphic design in his journey through college.