Spirit of the Christmas season seizes Central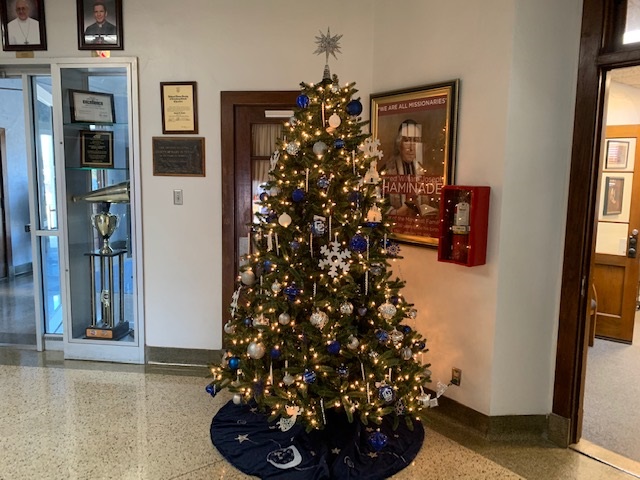 "In the end, it's all about atmosphere". Religion teacher Mr. A said those words when discussing why he decided to accessorize his classroom with Christmas decorations.  Through this, Mr. A joined several Central faculty members attempting to permeate the spirit of Christmas throughout our school. With the holidays approaching, the halls and classrooms of Central were decorated this past week to reflect our community's anticipation for the most wonderful time of the year. 
Every year, the highlight of our school's Christmas spirit is our JROTC hallway. This hallway is a major passing point for students commuting between classes, lunch, and extracurricular activities. The decoration of this hallway is an annual event, which requires the help of several parents, instructors, and cadets. Junior Officer Francisco Garcia who helped decorate enjoyed the experience saying, "helping decorate the hallway was a nice experience and it really shows what our JROTC program is trying to do in making our school a better place". SFC  Horton, freshmen army instructor who organized the wonderful decoration of the hallway shared a heartfelt message on the importance of Christmas decorating at Central. She stated, " Most of the time at school it is a very serious atmosphere with teachers primarily focused on educating students and disciplining them when necessary but by decorating our hallway we want to get students in the Christmas spirit, and show them how much we as a faculty care about them". She also added, "You never know when a student can be having a rough day, especially this time of the year with finals coming up and hopefully our decorations can play a role in lifting up their mood". 
Many teachers around campus used wreaths on their doors, lights inside the classroom, and Christmas trees of various sizes to foster in that wonderful Christmas spirit. One particular teacher on our first floor went above and beyond to prepare students for the holiday season. Mr. Delgado of our history department arrived at Central on the second Saturday of Thanksgiving break and spent hours preparing his room for the upcoming week. In alignment with SFC Horton, Mr. Delgado gave a heartwarming response as to why he took time out of his weekend to decorate the classroom saying, "I wanted the boys to truly enjoy the Christmas season between Thanksgiving and when we go off for Christmas break". Mr. Delgado's efforts in assembling the most impressively decorated classroom did not go unnoticed by other students. Senior Gibby Garza told me, "His classroom looked like such a cool place, I honestly wish he was one of my teachers with decorations like that", when asked what his first impressions were when bypassing the classroom. 
With faculty members going above and beyond for our students, it is tough to not get into the spirit of Christmas. Although these decorations bring us joy, their true purpose is to prepare us for Christmas Day, when Christ is born. Students and faculty alike were both pleased with this week's atmosphere, making the end of the semester and finals season a bit more tolerable.