Library boasts birth of annual Book Tree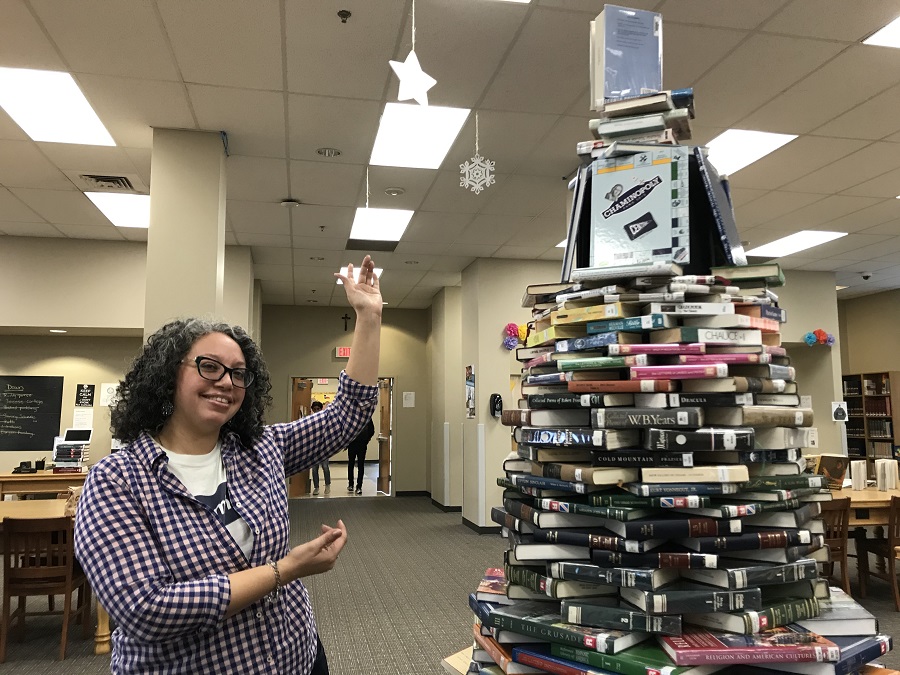 This year, librarian Mrs. Guadalupe, with some staff and student help, completed the famous library Book Tree all within a period of "6 hours", according to her. The Book Tree is a famous tradition across "many other university libraries"; ours is a staggering seven and a half feet tall one more foot than last year. This feat was achieved with the help of student and staff volunteers.
As this years construction began moving forward, Mrs. Guadalupe "had to get Mr. Horwath to help" to build such a large structure. In all his knowledge, Mr. Horwath raised the monolithic bastion of books utilizing his incalculable proficiency of engineering.  Even with all that knowledge, the endeavor took three more hours and multiple student volunteers to complete than last year. Having technical assets is but one essential element of the tree, but the main exhibit is the books themselves. 
The library boasts several large collections of encyclopedic works. The reason large collections are used is because they are all "uniform" and according to Mrs. Guadalupe "(bring) attention to what we have here in the collection." Also featured are: bibles, research, history, and The Fang yearbooks. The written word being synonymous with intellectual progress, the book tree represents the academic capacity of Central.