Central, Providence blood drive helps save lives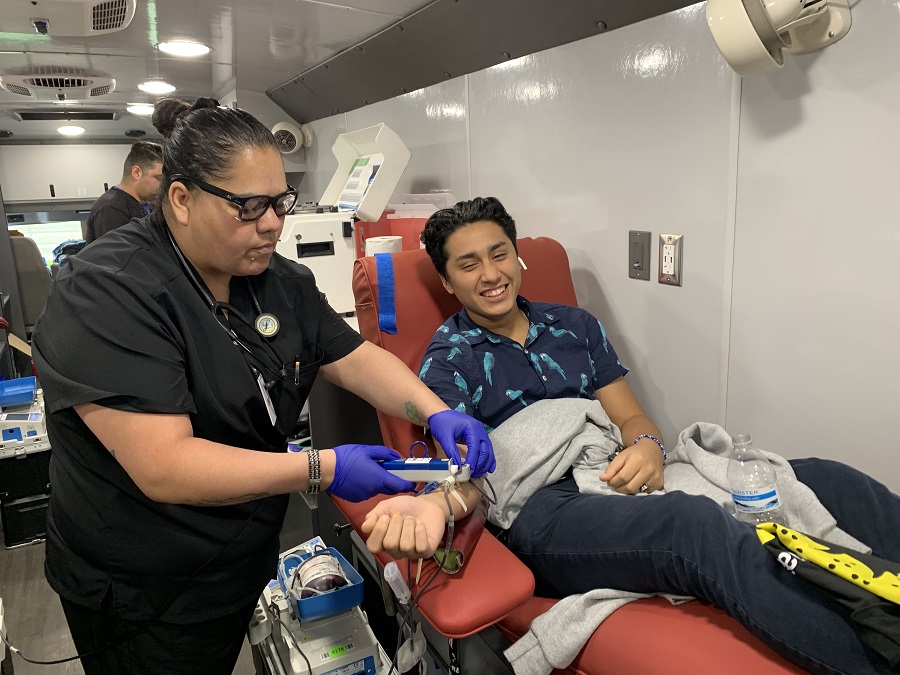 The Guardian Angels organization, led by science department chair Mr. James Bendele, engages in several service events throughout the school year. From Thanksgiving canned foods drive, to Christmas toy drives, to various service projects on weekends, the Guardian Angels are arguably the most active club at Central Catholic. One of their most popular events are their blood drives, which take place four times every school year. This past Thursday, November 21, the Guardian Angels held yet another successful blood drive in front of Providence High School. 
The history of blood drives at Central Catholic stretches back many years historically, and they have become increasingly popular in recent years, not to mention extremely successful. In discussing this with Mr. Bendele, he shared with me that blood drives have taken place every year since he began teaching at Central 21 years ago. However, over time, these events have gotten more and more popular. In recent years, every blood drive has had about 40-60 student donors. 43 Buttons donated blood on Thursday, verifying these very impressive averages. Mr. Bendele shared about why he thinks the blood drive is so special, replying: "This event saves lives. It's the one way I can do that." Through participating in the blood drives, Central students get the opportunity on campus to live out their mission of enhancing, and in this case, literally saving the lives of others.
Although the blood drive is a popular event, many students may be skeptical of donating blood, especially if they have never previously done so. Sophomore Deandre Marshall who donated blood for the first time on Thursday, expressed the relaxed environment of the "blood bus" in which the blood drive takes place. He stated, "I kind of knew what to expect, but once I finished, I realized how easy and painless it actually was donating blood." More experienced blood donors encouraged those who had never donated blood to come out and participate in this event. Senior Victor Sanchez who has donated blood several times delivered a heartfelt message saying, "In my community there are those who aren't necessarily as healthy as I am, which makes me realize how fortunate I am, and that makes me want to give back and encourage others to do so as well". Both first time and experienced blood donors had positive things to say following this Thursday's event, calling for donors at the blood drive.
If you are interested in donating blood, be on the lookout for two more blood drives that will take place during the second semester. Also, if you are interested in participating in other Guardian Angels service projects, contact moderator Mr. Bendele, or senior Diego Gonzalez. Without the help of these two leaders, this past blood drive would not have been as successful as it was. Follow the example set by the 43 Central Students this past Thursday and consider donating blood at the next drive. If you are on the fence, remember what Mr. Bendele says, "Each time you donate blood, you save three lives."