Students man phones for "Thank-a-Thon" effort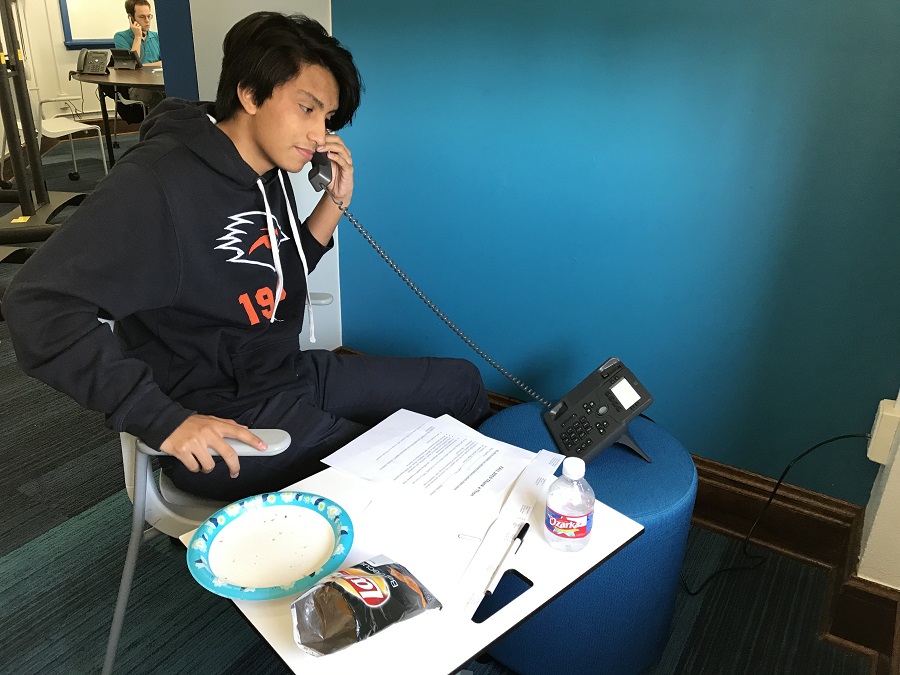 To thank major donors for their contributions to the school, students of Central Catholic made personal calls to significant donors during this week's "Thank-a-Thon" campaign. Over 350 people and foundations were called and thanked by our students. The event was organized and set up by the school's stewardship program.
"It's important to always acknowledge the generosity of others to help continue the mission of Central Catholic," said Advancement Manager for Stewardship, Ms. Vitagliano.
The event took place in the Global Communications Lab during students' lunch and continued over the course of four days. Students were given a list of donors and thanked away, whether it was a personal conversation or even leaving a thanks filled message on an answering machine. Through personal calls, students were able to offer sincere and genuine thanks for the gifts provided by generous donors.
"It was an amazing opportunity to thank those who've supported the school, getting to have conversations with the donors was very fulfilling. All those I spoke to were very happy to know the money they gave was being put to good use," said senior, Elionas Puente.
The select people who were called were "Pillars Club" donors. These donors are those whose gifts totaled $1,000.00 or more in the previous fiscal year or are Lifetime Pillars (gave $25,000.00 or more in a lifetime). These donors are one of the main reasons our school is able to provide many grants and scholarships to families and many academic programs.
"The fact that we have student volunteers making a call to put a name to their gift is priceless. Most of the time, a donor would extend the conversation several minutes to just ask the student about their time at Central Catholic and to share memories," said Vitagliano.
A big thanks goes out to all of those who have contributed to the Central community.