National Honor Society celebrates Fall inductees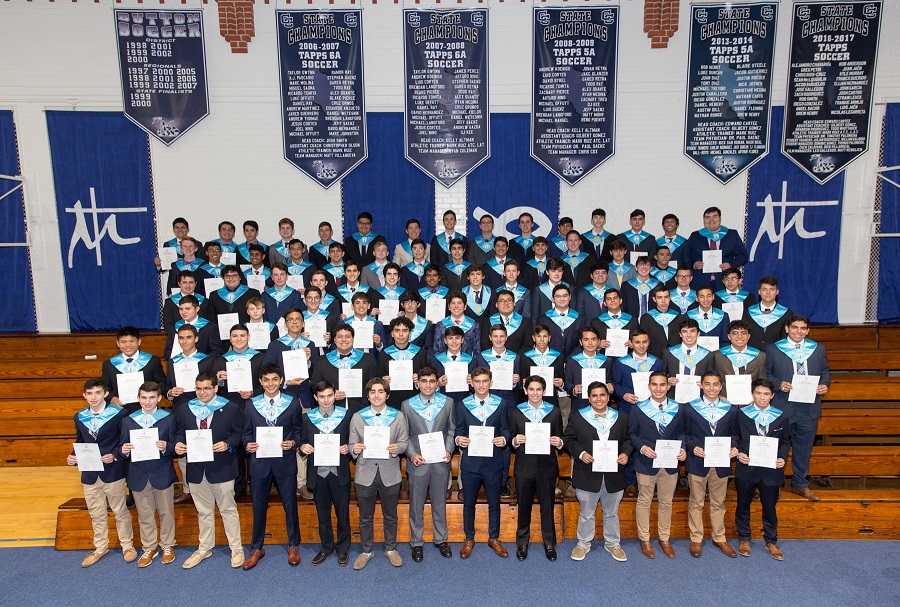 Ernesto Gomez, Staff Writer
November 17, 2019
Central Catholic proudly introduced 81 members into the National Honor Society on Wednesday, Nov. 13, in the historic alumni gym. 42 seniors and 39 juniors have shown characteristics of scholarship, leadership, service, and character that makes them eligible for membership in NHS. The chapter's previous members, before the introduction of our recent members, was at 42 students. We are now expected to have 123 total members in the Central Catholic chapter.
"They're a cut above. They really are. Their motivation, their work ethic, everything is at a level that is NHS. They're very good about participating because that's the kind of people they are. ", said National Honor Society Sponsor, Ms. Schrader.
Membership in NHS not only recognizes the accomplishments and achievements of students, but also challenges them to develop further through involvement in school activities and community service. Community engagement is the goal of all NHS chapters across the country.
"A lot of my friends are in NHS. I've received tutoring from them, they're all very helpful and I hope to give tutoring and it is something I look forward to," said recent inductee and Senior, Demitri Garcia.
As members of the National Honor Society, students are to engage, get involved, and use their abilities not only for self-development, but also for the development of their surrounding communities. NHS has been a significant organization and presence at Central for many years and will continue to leave a lasting impact through its presence and the commitment of its members.
"Younger students are helped by the members of the NHS through tutoring. I know that is a good experience for them and I know that others that are seeing the NHS member help the younger student think like 'I want to do that when I get to be a Junior or Senior', ", said Schrader.
Congratulations to all new members who have displayed characteristics of scholarship, leadership, service, and character. May the work of these inductees forever reflect our Marianist values.