Focus on Admin: Mrs. Sosa
…the heartbeat of Central Catholic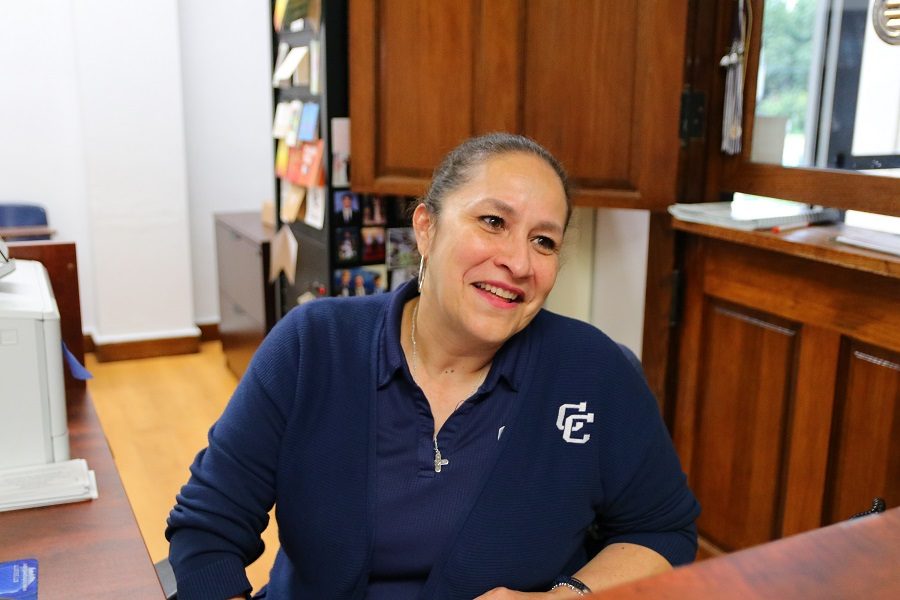 "
I love my job. I love my boys and their parents and the community."
— Sosa
As a Marianist school, one of our core values is to educate in the family spirit. By educating in the family spirit, students and staff develop meaningful relationships. Although most of the staff maintain deep connections with students, one stands out the most. Mrs. Sosa, the attendance clerk, administrative assistant of the dean of students, nurse, and the heartbeat of Central Catholic.
"As busy as she is, she will always make time for others. She always has a great attitude every day no matter what," said Rai Martinez.
With such an extensive title, one would expect Sosa to rarely have time to develop such connections with students and staff. One could only wonder if she has ever forgotten someone's name. Her genuine bonds with individuals of the school community make her a distinct and much-valued individual to all.
"I think about how my kids went through school and how I wanted them to be treated by an administrator or by a teacher so I try to be that person. I don't want to brush off a student just because I don't have time. I want to make time. I wanted somebody to have time for my kids. So learned that from being a parent and seeing how my children were treated," said Sosa.
As a parent, Sosa has learned the significance of making time for others, especially students. Aside from being a second mother to most, Sosa is a dedicated staff member as she is always willing to lend a hand to others. For instance, while doing work at her desk, a teacher asked if someone could watch over their class. Of course, Sosa was more than willing to help out her fellow colleague. The extent of her assistance goes much further than her coworkers. When students are lost or in need of help, she will do the best in her power to lend a hand. When boys walk into the office, Sosa is always prepared to make their day.
"I always tell the boys to just aim high and set your goals high. You can only go up from there. Never stop dreaming because you can make it happen." said Sosa
As a caring and motherly figure, Sosa has made a long and forever lasting impacting effect on Central Catholic students. According to Sosa, "I have several boys that still to this day call me or text me and always tell me that and come back and tell me 'you were the mother figure in my life',".
As a devoted and loving individual, Sosa has truly been the heartbeat of Central Catholic. On behalf of The Pep, we are thankful for the unique and remarkable experience Sosa has provided to students.