Central showcases Sciences during Mole Day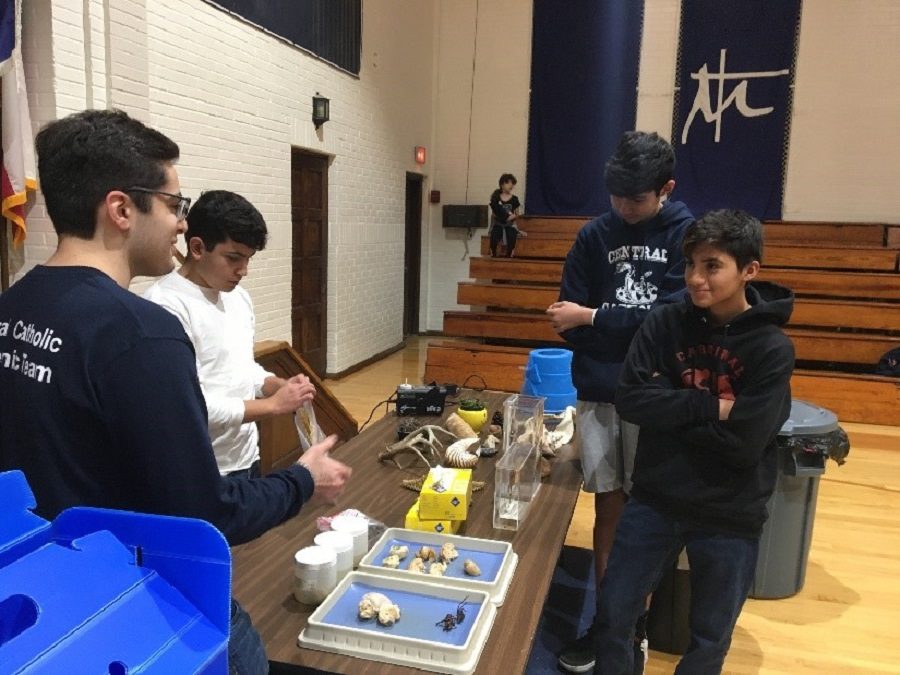 Ernesto Gomez, Staff Writer
November 1, 2019
To celebrate Mole Day, Central Catholic hosted an event for community, demonstrating science phenomena throughout biology, chemistry, and physics.   The event, hosted by the science department, invited the community with the goal of celebrating the sciences and showcasing facilities to guests.
"I would consider this event a success because it was the first of its kind in recent memory. It
expanded from being only a Central Catholic student event to one that included visitors from
other school" said chemistry instructor Dr. Ballesteros.
The event was open to families outside of the school, particularly middle school students and was supported through the volunteering of Central students and some St. Mary's students. The event featured many science-based activities and games for guests to enjoy.
"I would like to see Mole Day become an annual celebration at Central Catholic where we can reach out to the public at large and share our science education capabilities and expertise in a fun and celebratory way," said chemistry instructor Dr. Vallor.
The event presented a variety of demonstrations, games, and activities for the visitors. Mr. Bendele had presented some of his anatomy specimens and brought a live lizard. Brother Burkholder gave physics demonstrations in his room about fluorescence, kinetics, and electrostatics. Dr. Ballesteros presented a demonstrated about the ability of various metal salts to cause a flame of different colors. In the quad, Dr. Vallor gave a demonstration about chemicals which increase the ability for fuels to burn and provided lots of fire, smoke, and explosions for the guests. These activities are only a fraction of what went down on Mole Day.
"I enjoyed showing visitors phenomena they don't ordinarily see," said Brother Burkholder who enjoyed, "Demonstrating standing waves on a vibrating string, linear air track collisions, placing marshmallows in a vacuum jar and pumping the air out. (The air bubbles in the marshmallows expand, puffing up the marshmallows.),".
Mole Day's impact on families and middle school students may determine the future attendance of many generations to come in Central Catholic's future.