Central sponsors annual Eighth grade visits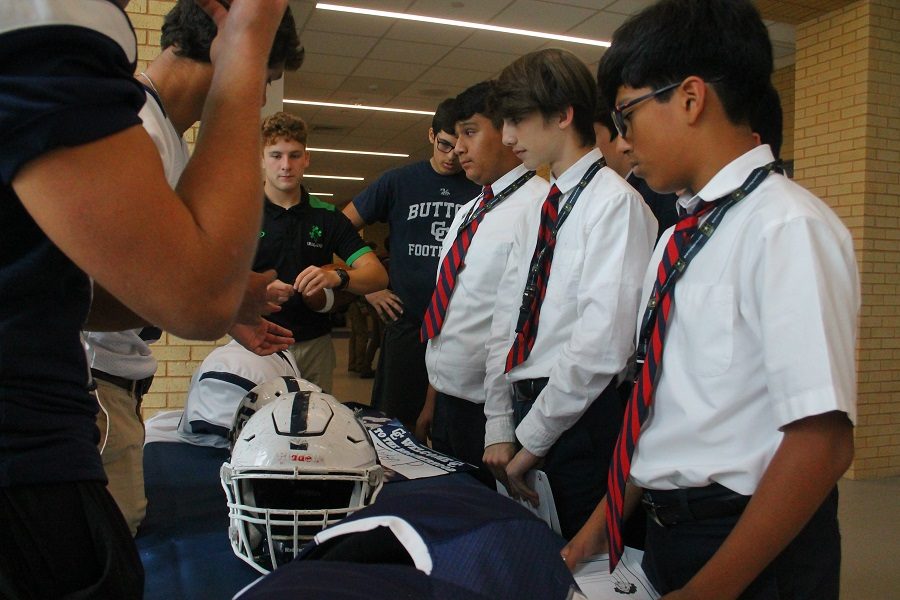 It is safe to say many of the young men who attend Central Central have had previous family members also attend this great institution. Whether it be an older brother, cousin, uncle, father, grandfather, or in some cases great grandfather, many of our current students are working to fulfill a Central legacy. However, there are many students at Central Catholic who needed a tangible reason in their decision to attend our school. This past Friday our school tried to deliver to over 200 young men a perfect reason why they should attend Central: a successful tour of our active campus. 
On October 24, Central Catholic held its annual 8th grade visits. By inviting over 10 catholic schools located in the San Antonio area, Central intended to give an all encompassing tour to the eighth graders visiting our campus. By giving them a taste of the Brotherhood, it was apparent many eighth graders were reassured of their decision, while many others were persuaded into a decision of attending our school next year. When talking to Ms. Herman, director of enrollment, she provided an astounding statistic noting, "90% of the students who partake in a tour of our campus make the beneficial decision to enroll at Central". Looking back on the special events and moments these eighth grade tours had to offer, I'm sure this strong statistic will hold its truth. 
The day began for the eighth graders in our historic gym. There, academic based organizations such as the various JROTC clubs, Spanish Club, Student Council, Comic and Games Clubs, as well as countless others set up interactive booths to inform the eighth graders of their organizations. After walking around and listening to what the student representatives of the various clubs had to say, the eighth graders gathered to listen to the wise words of President Paul Garro and Principal Stephen Walswick. At the conclusion of these talks, the eighth graders were split up with their middle schools into several groups and led around our campus by two upperclassmen ambassadors. The tour consisted of interactive stops at various landmarks of our school, such as the Global Communications Lab, Mother Adele Chapel,  and JROTC hallway. The tour ended in the Kahlig-Cowie Convocation Center, where all of our varsity sports were represented in various booths. Athletic Director Mr. Ybarra gave his final remarks to the eighth graders who were gathered in our new gym, before they were dismissed back to their respected middle schools. Eighth Grader Joaquin Hinojosa from Blessed Sacrament had a blast during his tours. "I was having so much fun at every place we would visit, I can't wait to come here next year!", he said. 
Fresh, new energy could be felt when watching these eighth graders enjoy themselves as much as they did on our campus. The future class of 2024 formed its first official bonds into the lifelong ties of the Central Brotherhood. For the first time, majority of the members Central's next graduating class were gathered under the same spirit of camaraderie. Senior Joe Palomera remembered his eighth grade tour saying, "It was awesome as an eighth grader being in the same place as a lot of your future brothers who I had not even met yet". The eighth grade tours held Friday not only did an excellent job giving future Buttons an in depth look at our campus, but also and more importantly, it gave the visitors a glimpse of the Brotherhood which is pervasive among our community.