Central celebrates week of Homecoming 2019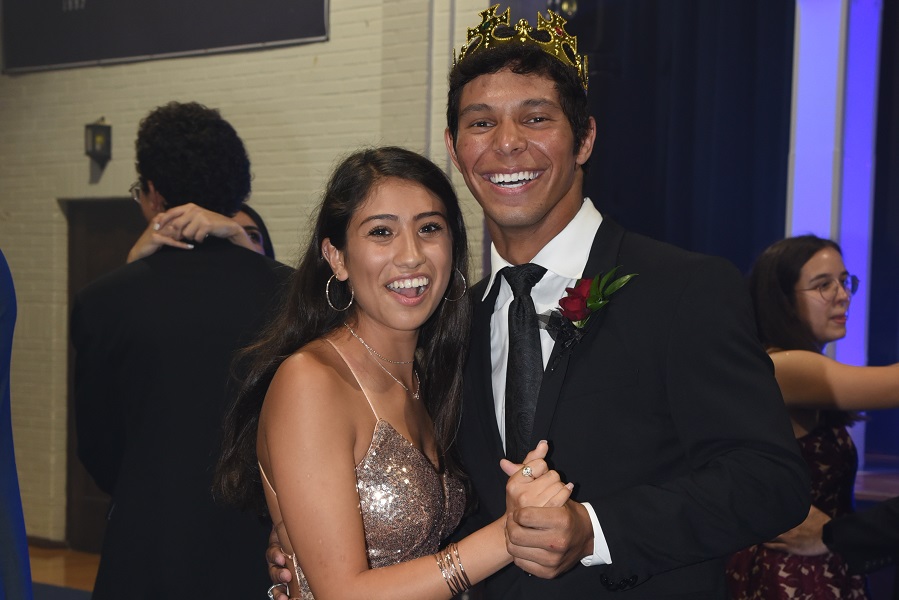 If one day of the week you saw a Central boy throw on a pair of unnecessarily high khaki shorts,  Sperry topsiders (without socks), a Polo shirt with the collar popped, and usually an accessory choice of either sunglasses or a backwards cap, and then the following day you saw him dress into the same attire as his favorite musical artist, I am sure you'd be confused. This would be hard to even imagine, because Central students know this dress would probably earn a uniform violation from Mr. G as soon as you walk into the building. You'd have good reason to be confused about this sort of behavior on any other week besides this week. In fact, this type of behavior would be encouraged and usually met with a few fist bumps. This week, Central Catholic celebrated its annual "Homecoming Week". 
 Each day of the week was celebrated with a different theme for the day. On Monday, Homecoming Week was kicked off with  "Frat Day". A fan favorite, Frat Day allows students to walk the halls of Central in their best "Frat" outfits. When talking to Senior Andres Tijerina, he had a few jokes saying, "I didn't know what to wear. I thought everyday was Frat Day at Central!"
 On Tuesday the fun continued with "Music Artist Day", where students could either dress as their favorite music artist or wear a shirt with the artist on it. Although most people kept it simple by wearing their artists' tee shirts, artists such as Kurt Cobain, XXXtentacion, and Chris Brown could be seen roaming around Central Catholic. Central Senior Matthew Perez thought this was the best theme of the week saying, "This day gives boys the opportunity to express their musical tastes while being able to have fun and dress comfortably at the same time." 
Wednesday brought more fun with "College Day". Students could rep their favorite Universities and their corresponding teams which to no one's surprise, brought out a few more sports arguments than normal.
 On Thursday, students could show off some of their school pride with a classic "Blue and White Day" theme. It must have felt odd for faculty members to see students wearing blue and white attire on a day that wasn't a Friday. 
We must have saved the best theme for last this year, because on Friday "Pajama Day" was celebrated. Without a doubt the most comfortable theme of the week, students were given the opportunity to flex off their best jammies. Besides being able to come to school in the clothes you slept in, many Central students love Pajama Day because of a special tradition that comes with it. "Naptime" is a Central tradition that occurs each year on Pajama Day, where students pack a particular area of the hallways during a passing period and simply lay down. Students lay down and relax as best as possible for a few moments before they are dismissed to class by an administrator present. Senior Jakob Mayorga was also in a joking mood telling me, "Naptime is great. It's the only time of the year a teacher can't get mad at me for trying to sleep". 
On Friday night our Central football team kept the fun rolling. They ousted Devine High School by a score of 47-34. Starting Runningback Gibby Garza kept his streak of impressive games with a 3 touchdown performance. A kick return touchdown in the first quarter by the speedy Chris Easterday energized the rowdy fans in Bob Benson 66' stadium for the remainder of the night. Section R showed off as always filling the stands in their "Hawaiian" theme. By performing traditional songs such as "Wipeout", "Sweet Caroline", and "Hey Baby", the Mighty Button Band filled the stadium with fine tunes throughout the night. 
Homecoming Week came to a momentous end on Saturday night with the annual Homecoming Dance. Central students put on their boogie shoes as they danced the night away in the Historic Gym. To wrap up the week's festivities, the Homecoming Court was recognized at the conclusion of the dance. Each member of the homecoming court was nominated by their coach or club moderator. This year's homecoming court consisted of seniors Andres Guzman, William Dotin, Bryson Hendrix, Alejandro Heredia, Declan Petershack, Joseph Dilley, Gibby Garza, Franco Alsonso, David Trevino, Seth Meade, Mitchell Porter, and Ahsad Tokmehdash. David Trevino and his date Sophia Payan were crowned Homecoming Duke and Duchess. Franco Alonso and his date Emma Sharpe were crowned Homecoming Prince and Princess. Gibby Garza and his date Adrienne Rivera were crowned Homecoming and Queen. After a long and eventful week, I'm sure the class of 2023 was given a great introduction as to what Homecoming week is all about, and I'm sure the class of 2020 was pleased with their final Homecoming as Central students.