Guardian Angels serve, support student project
Ernesto Gomez, Staff Writer
September 20, 2019
"
This quality of service speaks volume about the character, dedication, integrity, and charity of the Guardian Angels. They serve as the role model for all of us to follow when each of us do service for others and most importantly to God."
— Stella Lopez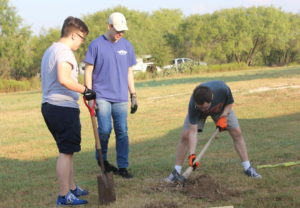 Trees and a bat house. Although a strange pair of items, one thing is for certain. Both had been set up under the scorching south Texas sun by Central Catholic's Guardian Angels. When senior Francisco Lopez needed to fulfill his Eagle Scouts project, the community service group was there to back him up.
The original plan for the Saturday project was to volunteer at St.PJ's, but due to another outgoing volunteer group from the previous week, no work was left for the Guardian Angels. Although the situation had completely changed the plans for the group, another opportunity came to the forefront.
"They apparently had a huge group show up to volunteer this past weekend. The group was so large, they did all of OUR work for this weekend." said Mr. Bendele in a group message to the volunteer group.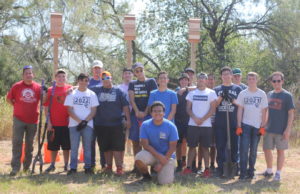 The cancellation provided the whole team the opportunity to assist Francisco with his Eagle Scout project. The Eagle Scout service project is intended to demonstrate the candidate's leadership of others while benefiting the community. The turnout of approximately 30 Central students and a few more other volunteers allowed the group to complete their work with time to spare.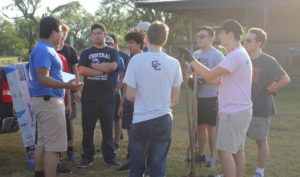 To begin the day, the group dug holes through the dry and rocky Texas soil, carried the young saplings into the hole, laid a ring of mulch around the sapling, and set a watering system; far easier said than done. Once the group had completed the first task and became accustomed to the heat, they enjoyed a break complete with hydrating drinks and snacks. Once the next task was prepped and ready, the group put together the bat house and set the posts in concrete; yet again better said than done.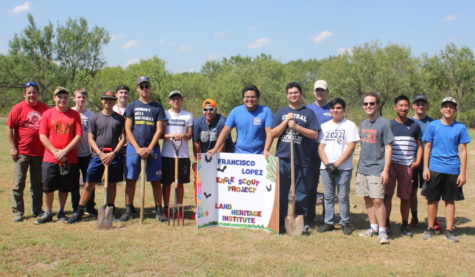 "For this particular project, they emphasized through their actions how conservation of the land is very important.  They also show how working with each other for a common goal strengthens the relationship between each other.  When the trees have grown and the bat houses are occupied by the bats, those will be a lasting testimony of the spirit of the Guardian Angels." said Francisco's mother, Stella Lopez.