Select Seniors honored with Marianist Medallions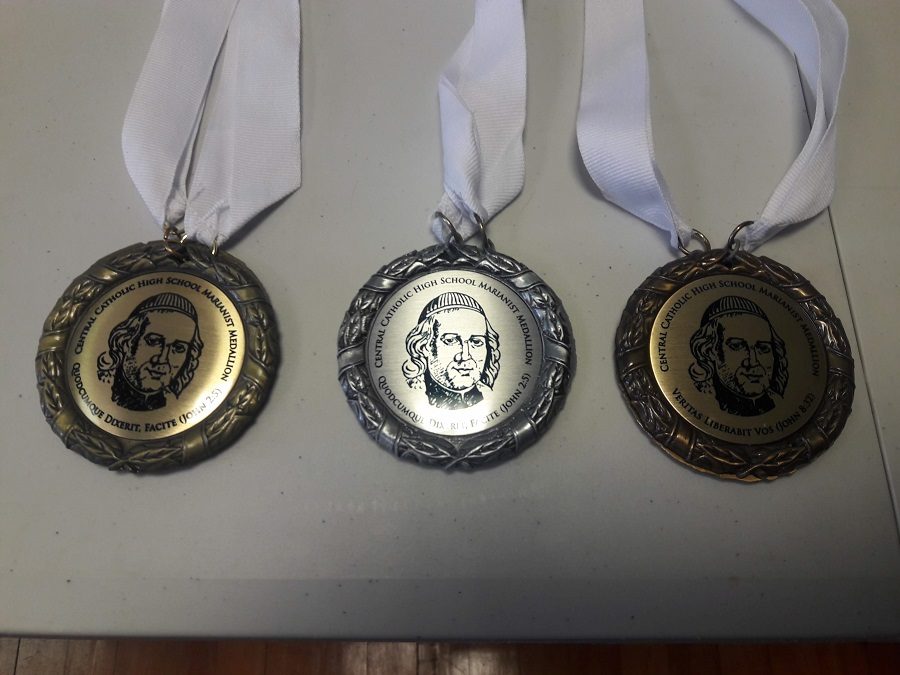 Luis Pagán-González, Staff Writer
May 17, 2019
With the close of every school year comes the departure of the Senior class. After four years of high school, their journey ends and a new one begins. Before they leave to start their college life, a select few Seniors who have shown excellence throughout their stay at Central Catholic are gifted the Marianist Honors Medallion.
The Marianist Honors Medallion is the highest level of recognition that Central Catholic bestows upon the students. The medal represents the Central Catholic mission and demonstrates the characteristics of a Marianist education and students who have shown this in their performance earn a medal at the end of their Senior year.
Originally, there were only two types of Marianist Medallions; Gold and Silver Medallions. Both required 110 cumulative community service hours throughout all four school years along with participation in retreats. For Gold Medalists, four to six advanced credits are required along with a 3.71 GPA or higher, while Silver Medalists only require one to three advanced credits and a 3.3 to 3.7 GPA. However, some students may be heavily involved with community service, which is a crucial part of the Marianist Mission, but cannot balance it out with a high GPA and advanced classes. That is why the Bronze Medallion was recently introduced, only requiring a GPA of 3.0 to 3.29 and no required advanced credits, while still containing the same level of participation for community service and retreats.
Seniors who are able to receive a medallion are sent an email during the third quarter notifying them about their eligibility to get a medal. In order to fully accept the medal, Seniors must create an original expression, whether it be a prayer, song lyrics, musical composition, or piece of art; themed around a specific characteristic of Marianist Education such as Educate the Formation in Faith, Educate in the Family Spirit, etc. This project, along with a written explanation for the significance of said project, must be submitted prior to Midnight May 1st.
Once eligible students have submitted their projects on time, they will receive their medallions during the graduation ceremony and be recognized for their hard work in the Marianist Education and Mission throughout their high school careers. Graduation for this school year is just a week away, so those Seniors will soon be given the medallions they so rightfully deserve before stepping out of the doors of Central Catholic as men who truly show what Marianists are about.