Central Senior seeks challenges at Columbia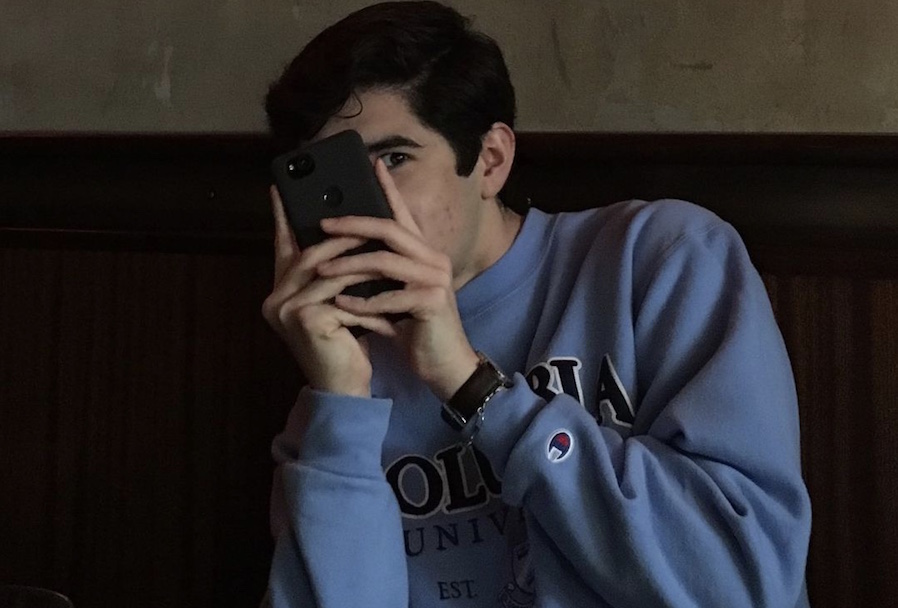 Cade Sheeran, Staff Writer
May 11, 2019
At first glance, Michael Sepulveda may appear to be simply another student with a keen sense of fashion, and extremely solid collection of college sweatshirts with schools most students view as dreams. For Senior Michael Sepulveda, on the other hand, he has spent the last several months forming a decision whether he wants to live on the campuses of schools such as Harvard, Columbia, Northwestern and more for the next four years of his life. With a one of a kind dream come true experience approaching Michael this fall, how did he end up in this position in life? His story is a prime example of success and achievement through hard work and utilizing every opportunity given.
It all started in the beautiful city of San Antonio, Texas. Michael was born here and hasn't moved since. His reverence for the city is no secret, though he's traveling to college out of state because he is  "ready to leave and explore," and is taking this opportunity to leap into uncharted territory. In order to have this opportunity, it was none other than Central Catholic High school where he engaged heavily all four years with no lack of passion. His favorite subjects were his English, Psychology, Religion, and even Calculus classes. For Michael, quality of quantity is key. He participated in the Academic Team, the Badminton Club, and even Tennis for a year, but he never joined something simply for joining. He told me that "mostly all of my extracurricular focus has been into speech and debate, simply because I found it the most fun." It did take a good amount of time and effort outside of school to do these, yet due to the fact he enjoyed what he was doing he was able to simply see it as a great experience. His advice to other students is "just do extracurriculars you like, and don't worry about doing too many." Michael's accomplishments show why everybody should consider this.
Believe it or not, Michael also performs at an extremely high level in all his classes, maintaining a 4.6 GPA average and graduating with a top five rank in 2019 class. I asked him how this was done, expecting him to emphasize a minimum of daily hours of studying at the least. Instead, I was surprised to hear him advise "Studying is very important, but should never get in the way of life. Of course, there are assignments all the time that require hours of learning and work, but those aren't as frequent if you stay ahead. I always pay attention and do as much of the work in class, so afterwards I can give my mind a rest, which is always much appreciated." Much of his time spent outside of school is either playing video games, specifically "Mortal Kombat 11", or being an "ACTS" team member. Many students even believe he may be the best Call of Duty player in the entire class, though he refused to comment on this. With this, the addition of his love for speech tournaments and competing with the Academic Team balances work and play perfectly for him.
To turn Michael from a great college candidate into one of the best in the country, one of the most unbelievable feats of Michael's life has been in the form of a test, the SAT. Michael took this test a few times, though it didn't take long at all until he achieved perfection, scoring a 1600 out of 1600 sharing a tie for the best score in the world with less than half of one percent of all students. According to him, "It's more about knowing what's going to be on the test. Take practice tests, I recommend the site 'UWorld', so when the test comes it's familiar."
At this point Michael came to the full realization it's not about where he could go to college, it's about what exact university he chooses, as nothing is off the table with his success. Growing up even as an early kid Columbia University in New York was his dream school to attend. However, this past year he strongly considered Northwestern University in Chicago as well due to its "Radio/TV/Film" program. Clearly the fast and exciting bit city life time doesn't scare him one bit. However even with his SAT, he said "I never wanted false hope since these schools are reaches for anybody", so other schools and parts of the country opened up. He ended up applying to seven schools total: UT, Syracuse, Vanderbilt, Northwestern, Cornell, Columbia, and lastly, Harvard. After months of waiting to hear back and traveling to see the schools, something he "had a lot of fun doing".
Decisions came out, and Michael was seven for seven. The work he did at Central Catholic paid off to the fullest extent, and the proof that anything is achievable if you do the right things is incredibly inspiring. Overall, when it was time to make a decision to Michael it was clear: Columbia. His words say it all "it just felt right", and that reflects mostly everything he's done. Also, his childhood dream to attend this school is actually in fruition. "I expect life and school in NY to be extremely hard, but it'll be fun" said Michael, and judging by his mindset and high school experience, the challenge is exactly right for an achiever like himself. His overall degree/life plans are not sure yet, as he is only 18, but he's ready for wherever life takes him. Michael Sepulveda is a Central Catholic student who did what he had to do and made the right choices without sacrificing any fun, and in return, his future will undoubtedly be bright.