New Ultimate team embodies student "passion"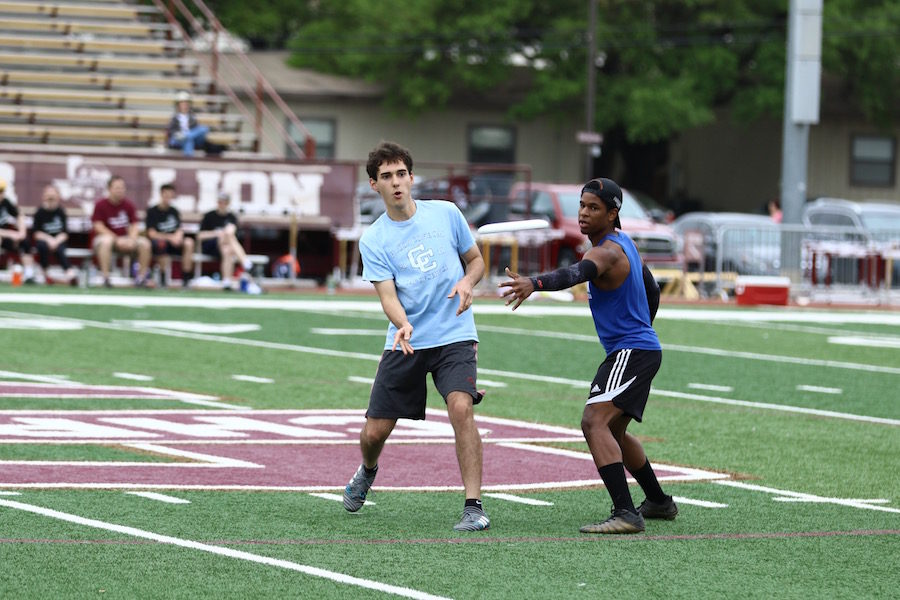 Follow your passion and who knows what might happen, right? Central's new Ultimate Frisbee team is a direct result of this mantra, and Senior Enrique Trevino is proof positive that something can indeed happen when someone follows their passion.
According to team moderator Mr. Ruby, "It was his [Enrique's] idea. He put all the wheels in motion, gathered all the members, and recruited me as the moderator. Thanks to his dedication and persistence, the team has thrived, gaining in numbers and progressing in skill since its inception." Some other team members, Zach Arndt, Jesse Aleman, Ben Villarreal, and Julian Vallejo, have been with Enrique since the team's beginning, and have also been instrumental in keeping the club's momentum going. Arndt and other team members have been going to committed lengths to work up offensive and defensive strategies for the new Ultimate team, and watching them in action, one would never know that they are a fledgling team in what is a long established competitive sport. Team organizer and leader Enrique Trevino had this to say about the experience of puytting the team together: "I am proud of the team and what we have accomplished in the short time we have been around. The most important things for all of us are the fun we have playing the game and the special bond we have developed as teammates and friends. I know that the team has a very bright future and will continue to succeed on and off the field."
The game of Ultimate involves each team moving the frisbee, often called the 'disc', down the field and they must throw the disc to someone who can catch it in the 'end-zone', much like a pass play in football. Ultimate, originally known as Ultimate frisbee, is a non-contact team sport played with a flying disc (frisbee). Ultimate was developed in 1968 by a group of students at Columbia High School in Maplewood, New Jersey. Although Ultimate resembles many traditional sports in its athletic requirements, it is unlike most sports due to its focus on self-officiating, even at the highest levels of competition.[1] The term frisbee, often used to generically describe all flying discs, is a registered trademark of the Wham-O toy company, and thus the sport is not formally called "Ultimate frisbee", though this name is still in common casual use. Points are scored by passing the disc to a teammate in the opposing end zone. Other basic rules are that players must not take steps while holding the disc, and interceptions, incomplete passes, and passes out of bounds are turnovers. Rain, wind, or occasionally other adversities can make for a testing match with rapid turnovers, heightening the pressure of play.
From its beginnings in the American counterculture of the late 1960s, ultimate has resisted empowering any referee with rule enforcement. Instead it relies on the sportsmanship of players and invokes "Spirit of the Game" to maintain fair play.[2] Players call their own fouls, and dispute a foul only when they genuinely believe it did not occur. Playing without referees is the norm for league play but has been supplanted in club competition by the use of "observers" or "game advisors" to help in disputes, and the professional league employs empowered referees. (Wikipedia contributors. "Ultimate (sport)." Wikipedia, The Free Encyclopedia. Wikipedia, The Free Encyclopedia, 27 Mar. 2019. Web. 1 Apr. 2019.)
With only two weekends of matches under their collective belts, the team has mustered a 4-1 win/loss record. Two weeks ago, in their first ever match, the team defeated San Antonio Christian School 13-9 in a hard fought battle. Last weekend, in a tournament held at SACS, the team finished with a 2-1 record after playing three games. For team moderator, Mr. Ruby, the experience so far has been somewhat unexpected. He had this to share: "It has been inspiring seeing students take their passion and turn it into something that Central has never had before, and that could, hopefully, become a lasting part of Central's proud athletic presence."
"What Is Ultimate?". USAUltimate.org. USA Ultimate. Retrieved

January 14,

2015.
"About Spirit of the Game". USAUltimate.org. Retrieved

April 18,

2017.