Father-Son retreat unites in food, fun, and faith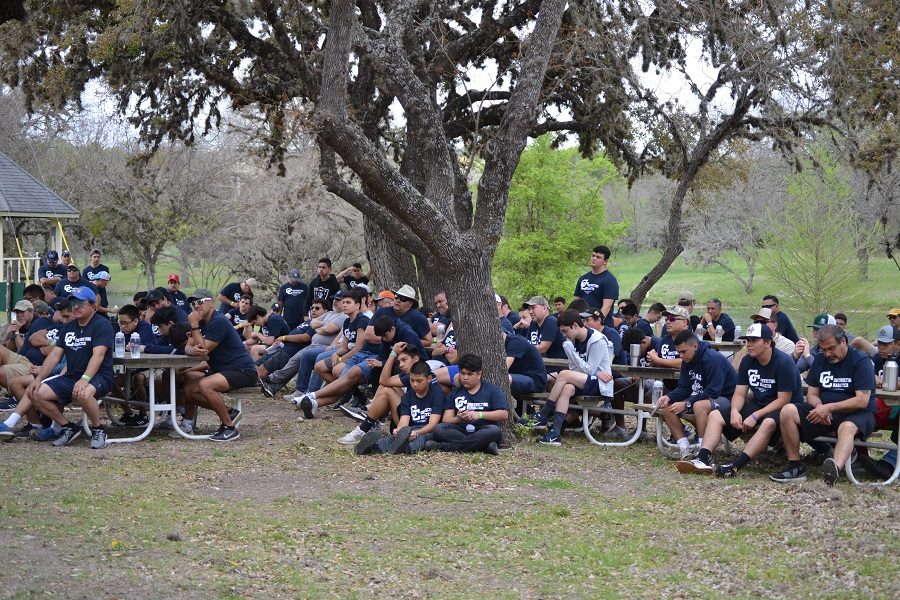 Diego Lopez, Staff Writer
March 26, 2019
Since 1985, the dynamic forces of father and son have united together for a weekend of food, faith, and
fun. Of course, we refer to the Father and Son Weekend, an annual event hosted by our Central Catholic
High School which invites fathers and their sons of any grade level to an enjoyable weekend retreat.
The locations change annually; last year's 33rd Father and Son Retreat was hosted at the Central Catholic campus, while this year's outing was held at Tecaboca, a beautiful Catholic retreat center in Mountain Home, TX, which, coincidentally, embodies Marianist core values through the various events and retreats hosted there.
Central Catholic has close ties with Tecaboca; even our very own Fr. Jim Mueller volunteers at Tecaboca
during the summer time, hosting mass for the young campers who spend part of their summer there. A
central aspect of the Father Son weekend is the nourishment of that divine and exceptional bond between the father and his son that seems as old as time itself. It is this enduring dynamic that not only helps to fulfill our natural purpose while simultaneously fostering our closer relationship with God, but is the foundation of the robust and cohesive Central Catholic community and beyond.
The Father and Son weekend is more than religious reflection and prayer; it also offers the opportunity to enjoy friendly sports-related competition. Previous events saw fathers and sons compete in dodgeball,
soccer, and baseball games, as well as a unique game called moonball, a game similar to soccer except the usual ball is replaced by a giant, light, plastic ball. This weekend is ultimately about bonding closer with family.
This year's Father and Son weekend did not disappoint. Tecaboca's beautiful Texas landscape amplified
the great camaraderie and made the games, meals, and camping experience even more enjoyable.
Laughter could be heard at every corner of the grounds, students played games with one another, Central Catholic alumni united with their old schoolmates, and those new to our community were welcomed with open arms. It is my personal belief that the Father and Son weekend exposes the beating heart of what is true brotherhood, faith, and love: the bedrock of the Central Catholic community.
Bruce Bowen, the legendary former Spurs player, came to speak to the congregation and shared advice on good character building and lessons from playing with the Spurs and being a father, all intermixed with a priceless Bruce Bowen humor. After being asked what the most valuable lesson he learned from the Spurs was, Bowen responded, "Always take the high road."
The weekend of CCHS camaraderie, spiritual transformation, and great fun, combined with the majesty of the Texas hill country, left many emotionally moved and eagar for next year. Andrew Ponce, a
sophomore who attended the retreat with his dad, had this to say about the overall experience: "I truly felt the spirit of God between my dad and I, and I cannot wait to go back next year and feel the same natural feeling."
The retreat also meant a lot to Central Catholic alumni, including Roger Flores, whose son Marcos is
currently a freshman. "The biggest personal takeaway was the unique opportunity that I have had here to not only bond with my son, but bond and reconnect with my friends and fellow classmates from Central and the new fathers", shared Mr. Flores. As a Catholic and Marianist school, Central Catholic realizes the importance of familial relationships and how they relate to our mission of making men out of boys through not only educational but also spiritual development. As George Herbert said, "One father is more than a hundred schoolmasters." Whether it's through prayer, games, food, or reflection, the CCHS Father and Son weekend is a great way to nurture the bond between family, and have a good time while doing it.