Central Track reps at Northside, SACS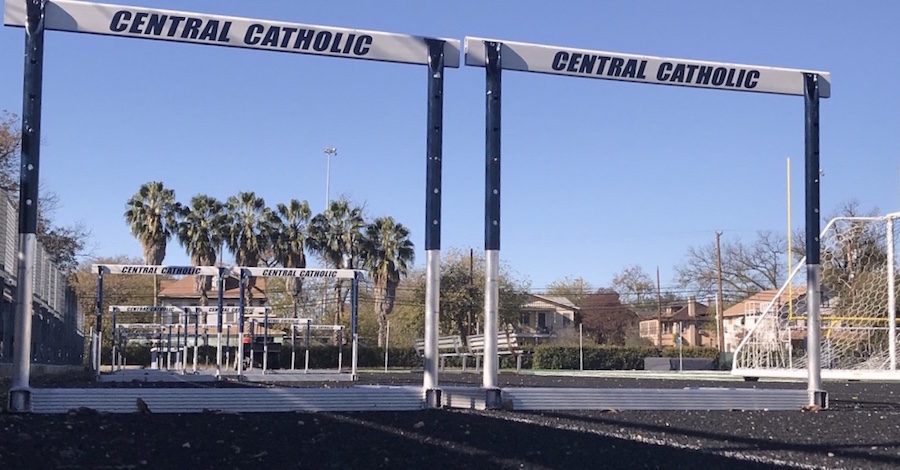 Coach Gary Brimmer
March 11, 2019
Freshman and JV boys competed at the Northside Invitational last week on Thursday, March 7. Scoring points and placing in their events were the following:
Nick Frayre – 6th Place 200m Dash
4 x 100m relay team of Nick Frayre, James Vester, Armand Hernandez, and Demarco Avila – 4th place
4 x 200m relay team of Hernandez, Avila, Vester, and Ezekiel Villarreal – 5th place
JV boys competing at Northside Invitational scored and placed in the following:
Jose Moncada – 800m 4th Place
Diego Valle – 800m 5th Place
Kevin Wang – 3200m 6th Place
4 x 100m Relay:
Mathew Hernandez, Matthew Gonzalez, Nathan Palomera, Garrett Davidsmeyer , 6th Place
4 x 400m Relay:
Gonzalez, Davidsmeyer, James Nanthikattu, Javier Virgen, 4th Place
Eric Hernandez – Shot Put 4th Place
Varsity Boys competed at SACS, placing and scoring in the following events :
100 Meters:
4th Chris Easterday
 200 Meter
6th Arnold McKesson
400 Meters:
3rd Matthew Perez
6th Chris Easterday
800 Meters  Varsity:
1st Nathaniel Zapata
3rd Michael Galvan
4th Matthew Perez
1600 Meters  Varsity:
1st Nathaniel Zapata
3rd Michael Galvan
3200 Meters  Varsity:
3rd Zeke Fetter
4th Joshua Uviedo
110m Hurdles:
1st Zach Davidsmeyer
4th Raul Vallejo
300m Hurdles – 36″  Varsity :
2nd Zach Davidsmeyer
4×100 Relay:
Chris Easterday, Matthew Torres, Arnold McKesson, Noah Adams, 4th
4×200 Relay:
Matthew Torres, Julian Dehoyos, Christian Garza, Glenn Ortiz-Smith, 3rd
4×400 Relay Varsity:
Christian Garza, Nathaniel Zapata, Matthew Perez, Zach Davidsmeyer, 2nd
Shot Put:
5th Zach Holm, 6th Diego Bravo
Discus:
3rd Nicholas Frey  , 4th Joseph Dilley, 5th Zach Yount
Long Jump:
6th Christian Allen
Great job, coaches, boys, and congratulations!!