Central Soccer heads to state playoff again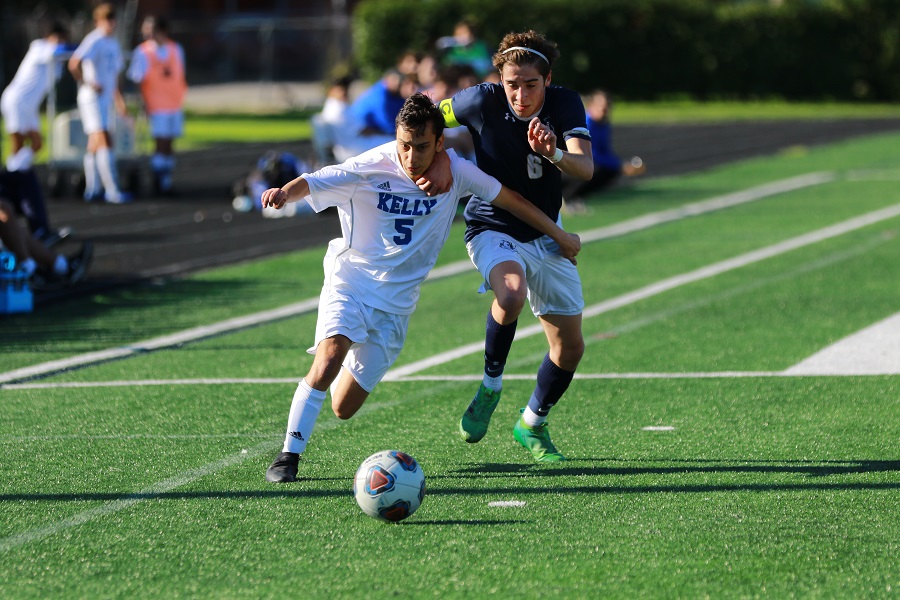 Luis Pagan-Gonzalez, Staff Writer, Photos by Zach Arndt
February 20, 2019
With only one more game of the playoffs left on Friday, the 22nd against Dallas Bishop Lynch at Waco ISD Stadium, the Central Catholic soccer team is bringing their A Game, after beating the Beaumont Kelly Bulldogs last week with an impressive score of 8-0, and after beating Houston St. Thomas yesterday by a score of 2-1 in Waco during the state TAPPS playoffs.
The Buttons did not hold back their punches against Beaumont Kelly, or this case, kicks, especially during the first half of the game. They managed to get a five point lead in just the first fifteen minutes with two more throughout the rest of the first half and one more score in the second half for good measure. Our team hardly gave their opponents time to even breath in our side of the field, allowing only two or three minutes there before going back to the offensive. With clean passes, excellent fake outs, and great scores from Sean Fleming, Angel Bacho, Daveen Mazaheri-Campos, and Jose Gallegos, it is no wonder the Buttons pulled off such an amazing victory. Against Houston St. Thomas just yesterday in Waco, it was goal scorers, JuniorJose Gallegos and Senior Luis Jaen, that helped the Buttons nose out their opponent in a close match.
After the Beaumont game earlier in the week, Coach Edward Cartee was asked about how the season has been for the Buttons and what they have planned for the rest of the playoffs. When it comes to practice, he said: "We do have certain patterns of play that we rehearse in training, which are based off of game situations that are going to occur over and over again, so we practice what our best options are in those frequently recurring types of situations." The team is built on always knowing all of the available options in any situation during a game in hopes to predict the other team's opponents.
Not everything has been a walk in the park, however. The Buttons have had to deal with losing vital teammates due to the Seniors graduating last year. They have also had to teach all of the newcomers to be able to play like the rest of team. Along with that, every opponent this season has not held back whatsoever due to the stellar track record the Buttons have had from previous years. Coach Cartee even describes it "as if we have a target on our backs." Despite these harsh limitations and challenges, the Buttons have managed to overcome them and their landslide victory on Tuesday shows their commitment to dedication and hard work.
With only one game now left in the playoffs, the state championship game on Friday the 22nd, the Central Catholic soccer team will maintain this dedication in order to win their next game at Waco ISD Stadium. Hopefully our soccer team can claim the victory in this game and secure their eight state championship. Go Buttons!