Bear Squad claws its way to claim Central Madness
Twenty-one teams, five rounds, one champion, and a whole lot of heartbreak. On Thursday March 22nd, the annual Central Madness basketball tournament began with many hopeful and optimistic teams looking to score a chance to win it all and take home the first place prize of bragging rights for the rest of the year. From aspiring freshman teams, to experienced senior squads, to promising mixed grade lineups, this year's tournament was bound to be filled with exhilarating moments and fantastical plays from the start.
The first two rounds of the tournament were played as three vs three games where the team that was first to score eleven points would advance to the next round. During these preliminary games, upsets and early exists were happening left and right and promising teams' wishes for a title were cut short. The next round of the tournament -the quarterfinals- were played as half court four vs four matches, where the first team to fifteen points would move on and keep their hopes alive. It was in these games where the true contenders and great players really stepped up to the plate and separated themselves from the rest of the teams.
The following day on Friday March 23rd, the final four teams prepared themselves for the tough opponents still left for them to face. These semifinal games, along with the championship game, were played as five vs five matches with the first team to twenty-one being crowned winner.  Fans gathered into the stands, players huddled together for pep talks, and the mayhem of Central Madness continued. The first match up was between the senior team Obi-Wan-Ginobili and the mixed grade team Bear Squad. A classic matchup from the start, the game was loaded with magnificent shots, impressive moves, and stellar blocks from both teams all game long. However, despite all the compelling efforts from players such as Sean Mcloughlin, Paul Witt, and Joseph Zamora, Obi-Wan-Ginobili fell to the triumphant Bear Squad in a thrilling 21-16 game. In the second semifinal game, the junior team Flint Tropics squared off against the Cinderella sophomore team Google Castles. What began as a slow paced game, quickly morphed into a shootout between the two opponents and eventually featured the Flint Tropics emerging victorious over Tully McKenna and the Google Castles by a score of 22-17.
In the championship game of the tournament, the remaining two teams faced off in a game for the ages that will be remembered by the players and fans watching for years to come. Both teams began the game with shooting woes and at first, it seemed as though it would be a slow and boring match. Bear Squad would eventually find themselves up 20-10, only needed one point to secure a victory and claim the title. Flint Topics however, had different plans. Out of seemingly nowhere, the Flint Tropics, lead by juniors Alex Gomez, Arnold Knox, and Luke Youngs suddenly caught on fire and swished in almost all of their shots. Quickly enough, the score became tied at twenty and it looked like Bear Squad was about to blow their lead and loose the title. And just when all hope seemed lost, a confident Joe Palomera spotted up from five feet outside the three point line, let the ball fly, and as destiny would have it, sealed the game and the championship. The crowd erupted and the players of Bear Squad rushed and tackled Palomera out of pure joy. Senior member of the team Christian Carranza described the experience as "simply amazing."
And thus, the Bear Squad were crowned champions of the Central Madness and Junior Joe Palomera was deemed honorary MVP of the tournament. "We would have never gotten as far as we did or even have won if it wasn't for Joe," said sophomore player Gibby Garza, "He lead the team."  "All I tried to do was play my best and it worked out for the best," said MVP Joe Palomera, " I'm just happy I can call myself a champion."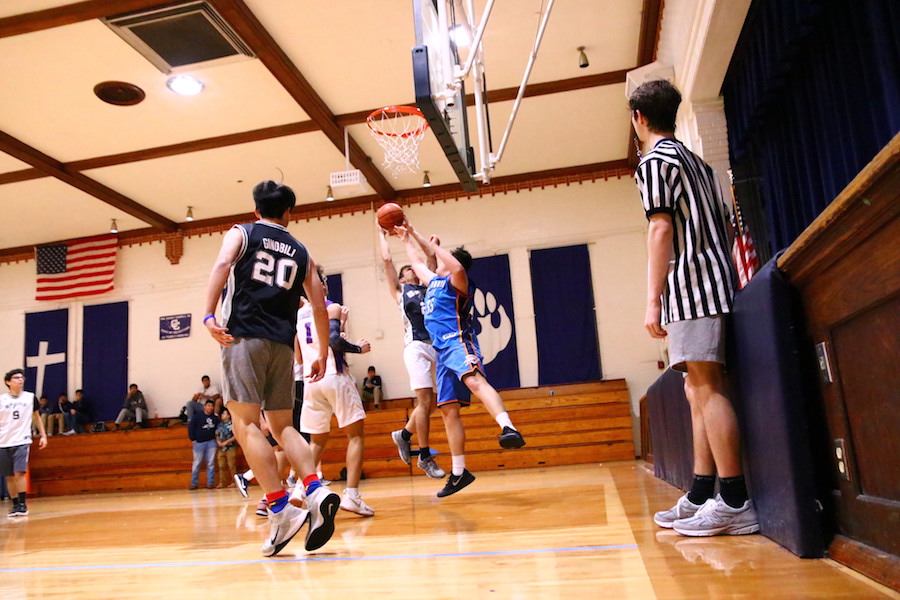 Mr. Cassler