Homecoming: The Simple Guide for Success
Homecoming
It is that time of year, boys! The quarter is done, and you've had time to get accustomed to the dynamics of this year's academic rigors. Now, it's time for the event everyone has been waiting for.
Homecoming, in some student's opinions, is the highlight of their year. It is a day when Central students get to show off to their dates, and to everyone around them how good they look in their suits and ties. Homecoming starts on Friday night, when the football team plays against the toughest opponent in the district, and the traditional game is followed by a highly anticipated after party with an abundance of celebration. The next day everyone eagerly looks forward to the dance. After hours of getting ready (at least for some people), the guys go pick up their dates. Actually, for the most part, the guy's parents drive the guy to pick up his date, but that's a minor detail; no one even notices. If that embarrasses you, just imagine that it is your own private chauffeur, not a chaperone that's going to snap pictures of you every second until their iOS 10 fills up their iCloud storage. Then, they make you stand there for 5 minutes while they delete baby pictures of you, but not before they show the baby photos to your date and her parents, of course. After everyone around you is watching you take your high school homecoming pictures, (all of the awkward pictures that are taken while you're sneezing, or while your eyes are closed), and after the pictures get posted on facebook for all of your friends and family to see, you might just feel like this is the most embarrassing day of your life. The truth is, every student has had these kinds of homecoming moments, but it all gets better when you get over the awkward introduction to the night. After the "professional photoshoot," every couple meets their homecoming group for dinner, and goes to party with their friends at the dance. Now that you know what the whole dance is about, here is a guide to make the whole day less stressful, which might help you save yourself from at least 60% of the humiliation.
Asking Her Out:
For some people, this is the hardest part of the whole event. There is so much pressure to ask her out in an extravagant fashion, and everyone at school talks about other guys' strategies for asking their dates to the homecoming dance. The most important thing to keep in mind when you ask your date, is to be confident. Find something you like and something she likes, and make something out of it. (For example, if she likes chocolates, and you like chocolates, you can conclude that you should get her a box of chocolates). If you write a pun or a joke on a poster, make something that applies to her and do not be too focused on having everyone around you understand the joke (at the end of the day, your dance partner is the girl, not everyone on twitter). Most importantly, give her time to find a dress, because she will hate you if you only give her a few days to find the right shoes, dress color, and size. Do not forget to order her corsage a couple of days before, and put it in the fridge. (it will keep the flower fresh)
Picking out your clothes:
This should be easy and simple and here is a quick guide to the different rules for matching colors:
Something on your apparel should go with your date's dress. (doesn't have to match or be the exact color but it should complement it)

Your shoe color should match your belt color.

The color of the dress socks must match or complement the shoes.

The tie should stretch to about where the belt buckle is.

If the jacket/coat has two buttons,

ONLY BUTTON THE TOP ONE.

Shoes should be polished, shirt ironed and tucked in.

Shoe color must go with suit (guide below).

No jacket? Make sure shoe color matches belt, and that slacks/shoe combination follows the guide below.

If you wear suspenders, no belt.

Most importantly, find something you're comfortable in.
Guide for matching (Suit and Shoes)
Black suit:

Black shoes (Do not pair with: Brown or Burgundy)

Navy Blue suit:

Black, brown, red, or burgundy shoes.

Charcoal Grey suit:

Black or Burgundy shoes (DO NOT pair with brown).

Brown Suit:

Brown (different tone of brown), Red, or Burgundy (Do not pair with black shoes).
These rules are not absolute, but they're safe to follow. There are exceptions to these rules, but there are not that many, so it is better to just stick to the classics.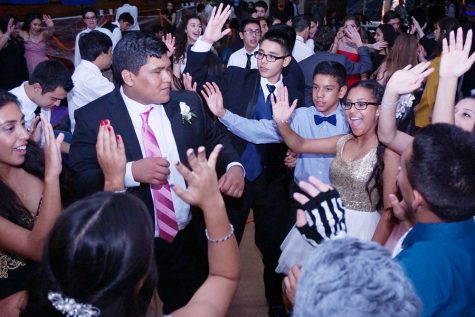 The Day of the Dance:
Some of the guys, who forget to buy a corsage (including me, last year) will be rushing the morning of the dance desperately trying to find the perfect flower for their date. Fortunately, that will not be you, because you are prepared. Once you get the corsage, it is time to go home and get ready. After taking a shower, do all of the "hygiene stuff" first. That way, you don't get any of the things (toothpaste, deodorant, hair gel, shaving cream, etc…) on your shirt or jacket. Ask for your parents' phones and clear up space on their camera roll to avoid the awkward baby picture situation. When you go to dinner, pull the chair out for your date, and when you sit make sure the napkin goes on your lap. In conversation, ask for her opinion, so she does not get bored of hearing you talk about yourself the whole dinner… AND ALWAYS, ALWAYS, PAY FOR HER! At some point during the dinner, let her know how beautiful she looks, because it will make her feel more comfortable and it will make her feel good about herself. Even if you are just friends with her, it doesn't hurt to compliment your date on a special night. This will help avoid the conversation taking an awkward turn, because it shows that you're happy to be spending the evening with her at this event.
The Dance:
Now you have a way to avoid most of the embarrassment of the night, but we can't save you from spilling your drink on your shirt. Unfortunately, we cannot defy the laws of physics, so the best thing we can tell you is just laugh about it, go with the flow, and get ready to dance. When you get to the dance, and all of the awkward events of the night are over, remember to be yourself, and enjoy the night. Dance the whole night because there is only one homecoming dance a year, and only four in your life. Do not let anything keep you from having a good time because it's your night, and you need to own it, because after graduation, homecoming will be one of the most memorable nights of your life. I mean, all the alumni come back every year for it, so if you don't believe me, ask them.
Remember, homecoming night only becomes memorable if you make it a night to remember, so sing and dance to every song, eat the food you like, enjoy being with your friends, ask the girl of your dreams, and most importantly have fun. Someday, you will look back at these nights and remember all of the great times Central Catholic gave you, and as a famous man once said, "2016 is the new 80's" – Adam Trevino (Student Council President).