SCREEN-JUMPER TV REVIEW: The Woman in the House Across the Street from the Girl in the Window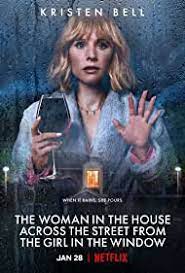 Anna, a heartbroken divorcee. watches her life go by in her living room till she then sets her sights on her new handsome neighbor until she witnesses a brutal murder in his house.
The Woman In The House Across The Street From The Girl In The Window is a dark comedy mystery show that pokes fun on those "Who done it" types of movies. It really delivers on the mystery part as it did keep me guessing on who did it. Usually, I always figure out who it was because the audience is forced to pay attention to the suspect who is obviously the murderer. It is never a surprise to me when they are exposed. But this show really did a good job with keeping the investigating part of the story from giving the murderer away and I give it props for that. But what always made me confused was when it shifted the tone from being comedic to seriousness,  I could never tell whether they were joking or serious. Since they say things that will be funny in a serious atmosphere, I didn't know if I should laugh or not. But it is a good watch and enjoyable overall.