Iron Fangs ramp it up to rock Robotics season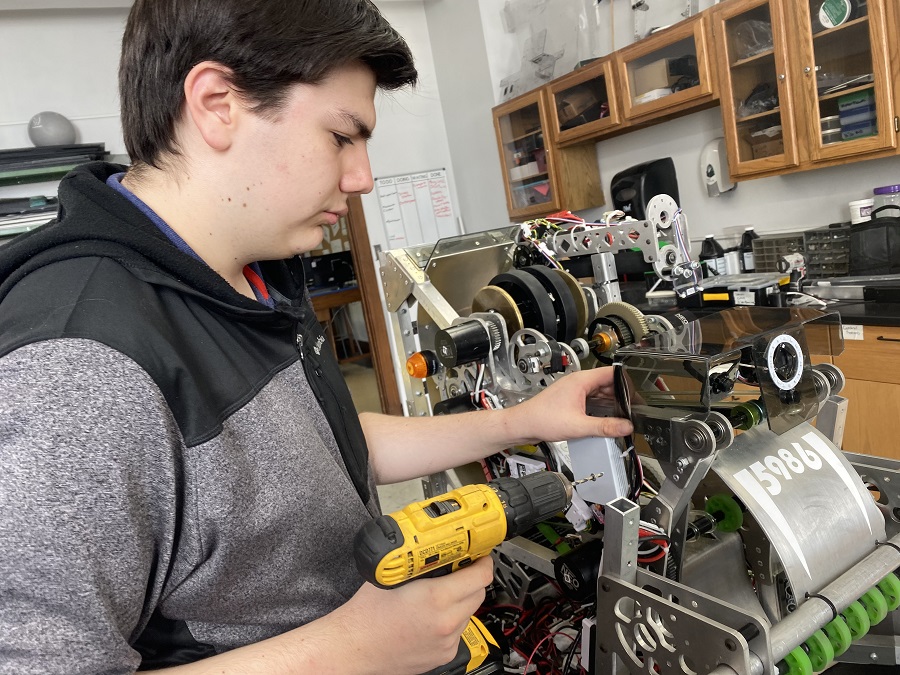 A casual stroll into Mr. Horwath's classroom (and the bustling work area that adjoins it) can leave the average student or faculty confused. However, among the many boxes of supplies, plexiglass, metal scraps, and numerous kinds of machines, the space exudes an air of mechanical and technical proficiency. In these adjoining rooms, an enormous amount of creative and technical energy is brought to bear in the pursuit of a competitive robot, a task these teams have excelled at over the last few years.
The Robotics program annually designs, constructs, and programs mechanical wonders to compete locally and internationally, competing in meets sponsored by FIRST, which is an acronym for: "For Inspiration and Recognition of Science and Technology". With recent show-casings at San Japan (held here in San Antonio), competitions in Del Rio and recently in Dripping Springs, team members learn that "you need to be adaptable" said Will Dotin.  At these competitions it is typical for the "Iron Fangs", as the Robotics team #5986 is monikered, to ally with teams from other schools for their mutual benefit. "For example, even if a robot's design isn't that good…if it's good at something we need, we may ally if it's beneficial" said Darren Elizondo. 
The FIRST Robotics Competition (FRC) is an international high school robotics competition. Each year, teams of high school students, coaches, and mentors work during a six-week period to build game-playing robots that weigh up to 125 pounds (57 kg).[3] Robots complete tasks such as scoring balls into goals, flying discs into goals, inner tubes onto racks, hanging on bars, and balancing robots on balance beams. The game, along with the required set of tasks, changes annually. While teams are given a standard set of parts, they are also allowed a budget and are encouraged to buy or make specialized parts. The FIRST Robotics Competition is one of four robotics competition programs organized by FIRST, the other three being FIRST Lego League Jr., FIRST Lego League, and the FIRST Tech Challenge. (wikipedia)
FIRST Robotics Competition has a unique culture, built around two values. "Gracious Professionalism" embraces the competition inherent in the program, but rejects trash talk and chest-thumping, instead embracing empathy and respect for other teams. "Coopertition" emphasizes that teams can cooperate and compete at the same time.[4] The goal of the program is to inspire students to be science and technology leaders. (wikipedia)
This year's season began with the gathering of the team to watch the 2020 FRC kick-off live stream,  revealing the game and challenge details. After reviewing the challenge details, robot requirements and restrictions, the team set to work immediately to develop a strategic plan. The team then began to deconstruct the challenges and begin to draft possible designs. Planning includes creating models in the 3D CAD design software, SolidWorks, and each year, the team designs and builds their robot from the ground up. This includes everything from the overall design and manufacturing of the parts to the electronics, sensors, and how the 'bot will move and execute required tasks. It's a long and complicated list of requirements that must be met in order to compete.
"We work nonstop building a robot from scratch. We're making quick progress and our shooter is already showing good signs of working the way we want it. This year we're all in and going to bring home a world championship banner," said robotics team member, Jacob Alex Fuentes.
While journeying throughout the classroom and adjoining workroom, it became apparent to me that establishing a connection among the members of the Robotics team is just as important as the rivets and screws that hold the robot together. Team member Francisco Fabregat said "I've spent a lot of time here…and there's been a lot of progress in this room that helps the school and me." Camaraderie and collaboration are the two driving forces behind our team's success. In the spirit of Marianist inclusivity, our robotic team stands as an example all schools should strive to achieve.