Central's Operations Team keeps things going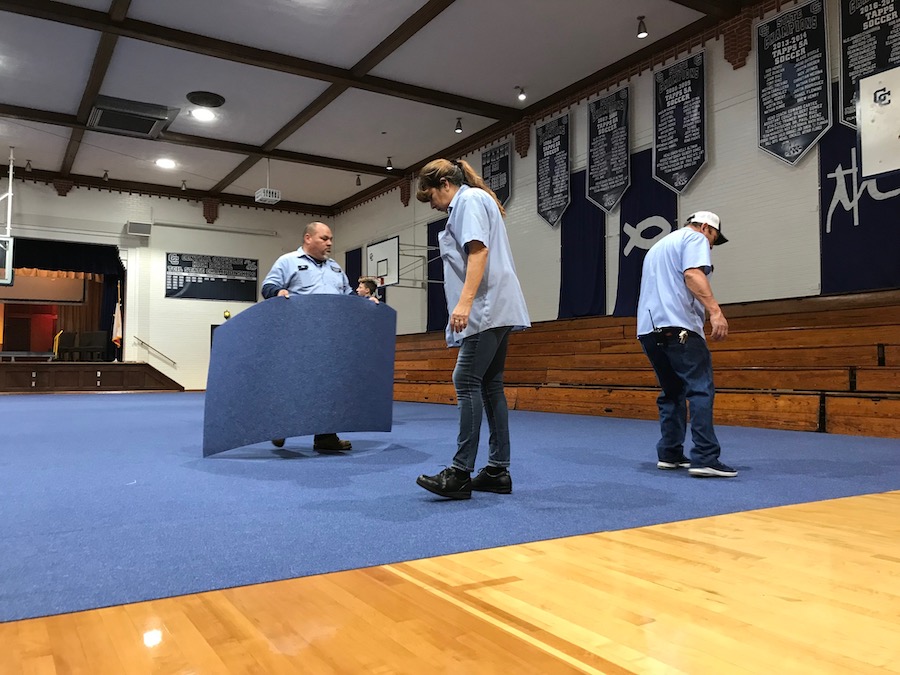 Two weeks ago, I had the distinct pleasure of bringing you the story of Margie Rodriguez and Mario Gonzales, two operations staff members at Central that are very hard-working and appreciative of the jobs they have. This week, I now have the distinct pleasure to bring you the other half of that Central Catholic "heartbeat", Jesse Olivarez, Martha Velazquez, Jay Massiate, and Antonio Escobedo-Gallo.
Jesse Olivarez, who has worked here for fifteen years and counting, says his love for the school, is pretty much the entirety. "I like just about everything around here. I do a little bit of everything. I do some carpet, I do some plumbing, once in a while I do painting, and other than that, everyone is like a big family here." As for his relationship with everyone in the rest of the crew, he says the relationships are what "get things done." "Working together and helping out each other when someone is absent, there is always someone to fill in and do the other person's duty."
Olivarez says that his most favorite thing about the Central, is in fact the students. "Getting to see everyone grow up around here, at least the ones that I get to know. There are guys that come back from reunions and alumni that come back after many years and I am still here. If I did not like it, I would not be here."
Martha Velasquez, another staff member who speaks primarily Spanish, explains her relationship with the other staff members as "excellente," saying that "We all get along and we all love and respect each other." Velasquez worked in the cafeteria for thirteen years and now she works on the operations staff. She describes her self-being during her job saying, "Estoy feliz  siempre," which means, "I am always happy." She says her favorite thing about the school, is her job. "I love what I do, and I love the amount of respect I receive as a custodian."
Jay Massiate can also be seen every day of the week on campus, in the quad, at the football stadium, in the convocation center, even on the campus grounds trimming and touching up areas. His commitment to the Operations Team is just one reason that this team gets so much accomplished day in, day out, and week in and week out throughout the school year and during the summer months when their efforts really go virtually unnoticed. Antonio Escobedo-Gallo is also seen around campus on a daily basis, quite often from the heights of a trusty ladder, with a paint brush or roller in his capable hands as he keeps the walls of the old school and Elizondo looking good after the normal wear and tear that our hallways and rooms go through.
While the custodians are hard at work with everyday housekeeping projects, Director of Operations Paul Combest has more on his mind. Future projects of the school in the summer and in the near future, along with the small things such as set ups, are top priorities for Combest. "We are about to replace some siding at the band hall because all of that is torn up…We are going to replace some carpet this summer…There are no plans to really redo any classrooms or anything like that like last year. Other than set ups and the little things, there is really no major project we have coming."