JROTC Team Night spotlights student leadership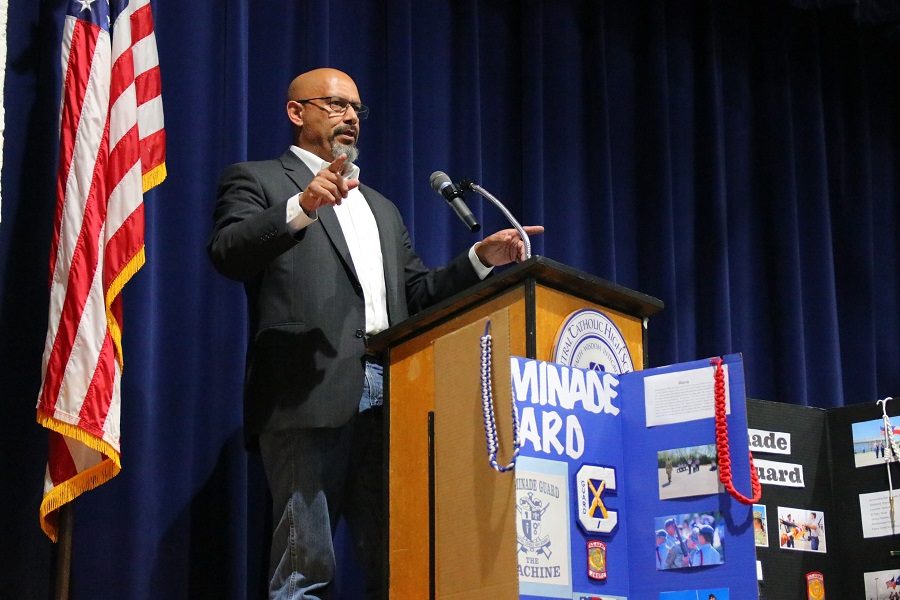 Team night is an annual celebration for the JROTC Corp of Cadets where the team commanders announce the membership of their teams and goals for the next year. The night began with a current member and instructor of police S.W.A.T giving a speech on the relevance on teamwork in every facet of life. This is parallel to the attitude of the JROTC teams who make the habitual act of holistic learning an everyday part of their practices and competitions. 
"I see great teamwork in this room," said the guest speaker. 
This year the JROTC teams were treated to high quality space in the historic gym, delicious food, and valuable time for unity during the event. I ,personally, have seen a tremendous change since this annual event of just three measly years ago. The Corps as a whole has moved from hotdogs and chips in the cafeteria to  a catered meal and full dessert plate with a prestigious guest speaker in the historic gym. When speaking about this event the captain of the orienteering team Nathan Staver said: "It's kind of like cross country and navigation", to describe his team. 
Some other teams include: Physical Fitness, Strikers, Color guard, Cyber Patriots, Drill team, JLAB, and Rifle team (Sporters and Precision rifles). In order to keep a hold on all these teams the S7 ,Jaime Torres, in charge of keeping track of all the teams noted that "is very hard, but it's all worth it to better(myself) and ROTC" as what he does with his job. 
JROTC is predicated on the notion of continuous self improvement, and the progress of this event not only shows the endurance of one of Central's  long lasting and most decorated programs, but also exemplifies the Marianist pillar of Missions.
If you are interested in joining a JROTC team, ask a team member or JROTC faculty for the team commander or XO name and ask for practice dates.