New York Film Academy rep pitches programs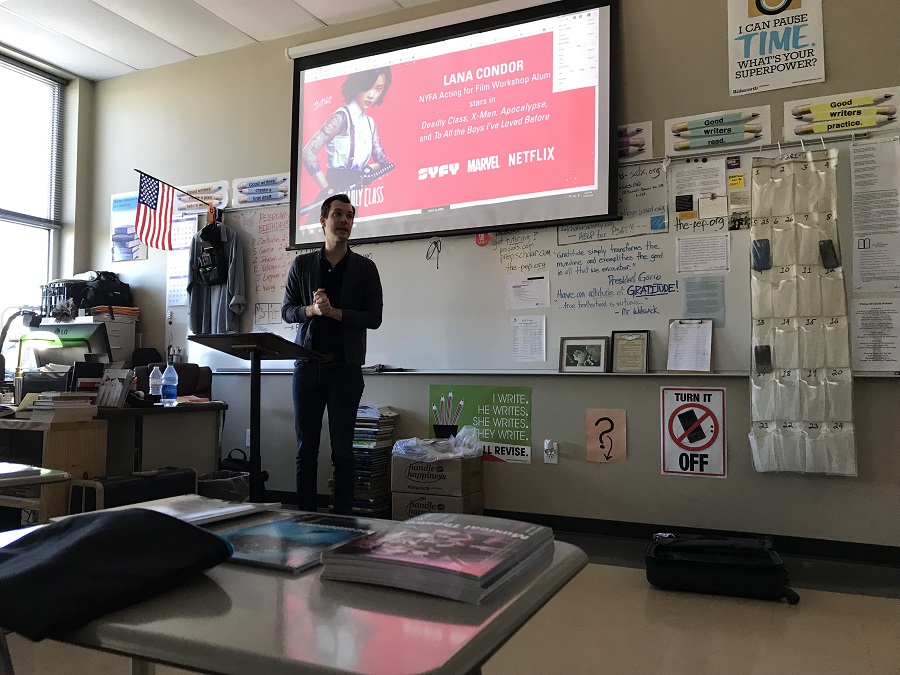 A representative from the New York Film Academy, Domestic Outreach Specialist Cody Smotherman, presented the many offerings that the prestigious film academy has for those interested in going into film, production, screen writing, voice acting, or one of many other options that are available to potential candidates that want to attend the academy.
The presentation was made during Mr. Cassler's 7th Period Publications & Media class, and Cody provided an informative Q & A session near the end of his presentation. Included among the many topics Cody shared with the group were insights into how to effectively prepare a student portfolio and a resume that will impress admissions staff as well as any professors at the academy who screen incoming applicants. Junior Luis Pagan-Gonzalez, who is already actively involved in voice acting and story writing, expressed an interest in the possibility of taking a number of course loads at the academy. Luis had this to say about the presentation overall, and his interest in the possibility of attending NYFA: "The presentation was eye-opening to a future that would include my current interests in acting and writing. It was also quite surprising to see so many names of graduates and guest speakers at the academy who are well known names in the film industry."
With campuses all over the globe, including the Gold Coast in Australia, Beijing, Moscow, and Amsterdam, NYFA boasts three full service campuses here in the U.S. in New York, Los Angeles, and South Beach, FL. Students at the LA campus are able to get access to some of the most well known sound stages and prop settings as they work on film productions during their required coursework.
NYFA offers a variety of coursework, curriculum, and degree programs that allow students to pursue any of a wide number of interests in the film production industry. Students can pursue Graduate and Under Graduate programs, Conservatory programs, Short-Term workshops, and Summer Camps as well. Areas of study include: Filmmaking, Broadcast Journalism, Cinematography, Digital Editing, Digital Filmmaking, Documentary Filmmaking, Music Video Production, Online Screenwriting, Producing, Screenwriting, 3D Animation, Game Design, Musical Theatre, Photography, Graphic Design, and VR (Virtual Reality) Design.
Guest speakers at some of the academy's workshops have included Ron Howard, Steven Spielberg, Al Pacino, Glenn Close, and Rose McGowan, among many other notables from the film industry.
The NYFA website can be found at: www.nyfa.edu